Tory MP's group wants net migration target dropped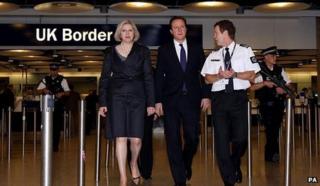 Prime Minister David Cameron is being urged to drop his pledge to cut net migration to "the tens of thousands".
The call comes from a new Tory campaign group, Managed Migration, which claims the support of up to 20 Tory MPs.
The group's organiser, Conservative MP Mark Field, warned Mr Cameron against getting into "a Dutch auction" over immigration numbers and said he could not "out-UKIP UKIP".
But Mr Cameron said the target was still "important".
"It is right to target a reduction in immigration," he said on a visit to Hull.
"If you look at immigration from outside the European Union, it is down by a third and it is at its lowest level since 1998 and we have to keep working towards that important target."
However, Mr Field, the MP for the Cities of London and Westminster, said the target was "impractical", harmed Britain's global competitiveness and was clearly not going to be met.
'Wrong signals'
"Very few voters out there believe we can deliver on it and, indeed, all the evidence suggests it is now moving in the wrong direction," he told BBC Radio 4's Today programme.
"And, of course, very few businesses - and I feel that very close to my heart, representing the sort of seat I do - believe it is practical.
"And it risks, in my view, sending out the wrong signals about our openness - and Britain's traditional openness - as a trading nation, to the world at large."
He said recent big increases in net migration were a sign that the UK's economy was recovering strongly.
"We have been victims of our own success. One of the reasons we are not able to achieve the net migration figure is that we are so outperforming our European neighbours that many people are coming from Spain and Portugal and France to these shores, and fewer people want to leave, so therefore net migration is going up and up."
He said he was not not calling for David Cameron to drop the net migration target immediately - but said it should not be in the Conservative Party's next election manifesto.
"We need a more calm debate about this going forward.
"And I think the difficulty is we are not going to be able to out-UKIP UKIP. I have a lot of respect for Nigel Farage but he has very different views on this to me."
'Still time'
Net migration is the difference between the numbers of people moving to live in the UK and the numbers of people leaving.
The latest figures show net annual migration rose 58,000 to 212,000 in the year to September 2013.
Although levels steadily declined in 2012 after tighter restrictions on non-EU migrants took effect, the trend has since reversed - largely due to the increase in the number of migrants from other EU countries.
At the Westminster launch of his Conservatives for a Managed Migration group, he denied being a lone voice, despite no other Conservative MPs attending the event.
He said he hoped to get more MPs on board but said "many times" his colleagues had told him they agreed with his view but said "we are worried about UKIP and therefore we would rather not be publicly associated".
Labour immigration spokesman David Hanson said: "Labour has long called for a calm and rational discussion about immigration, so we welcome Mark Field's opposition to the shrill and ineffective approach adopted by their own Government."
Conservative chairman Grant Shapps said earlier this month that there was "still time" for the target to be met.
But Lib Dem business secretary Vince Cable has repeatedly called for it to be dropped - and angered immigration minister James Brokenshire by saying recent increases in net migration were "good news".