The hereditary House of Commons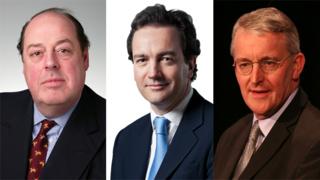 Politics is in the blood for many MPs - but there are even more family dynasties in the Commons than you might think.
Four generations
The families of Conservative MPs Nicholas Soames (top left) and Nick Hurd (centre), and Labour's Hilary Benn (right) can trace their presence in the Commons over four consecutive generations.
According to research from the House of Commons library, which does not claim to be exhaustive, does not look further back than four generations and does not include in-laws, they are the only three current MPs able to stake such a claim on history.
MP for Mid Sussex Mr Soames' father Christopher represented Bedford from 1950 to 1966. His grandfather, Sir Winston Churchill, served as an MP from 1900 until 1964, with a short break between 1922 and 1924.
His great-grandfather Lord Randolph Churchill was an MP between 1874 and 1894.
An uncle and a cousin, also called Randolph and Winston Churchill, have both been MPs, making Mr Soames the successor to the largest continuing dynasty in the UK Parliament.
Hilary Benn, the MP for Leeds Central and son of Tony Benn, has three other immediate relations who served in Parliament: William Wedgwood Benn, his grandfather who converted from the Liberals to Labour, and two great-grandfathers, both Liberals, who between them served in Parliament from 1892 to 1918.
Tony Benn famously fought to renounce his peerage so as to reclaim his place in the Commons.
Mr Hurd is the Conservative MP for Ruislip, Northwood and Pinner, and the son of Lord Hurd of Westwell, the former Conservative Foreign Secretary.
But his political lineage stretches back to Sir Anthony Hurd, later Lord Hurd, his grandfather, who was Conservative MP for Newbury from 1945 to 1964. And his great-grandfather Sir Percy Hurd, too, was a Conservative MP.
Three generations
Two of Conservative MP Zac Goldsmith's (right) grandfathers served in Parliament. So did his great-grandfather Charles Vane-Tempest-Stewart, the 7th Marquis of Londonderry, who represented Maidstone from 1906 to 1915.
Conservative MP Geoffrey Clifton-Brown (left) is also representing the third generation in his family to sit in Parliament, succeeding his grandfather Geoffrey, and his great-great uncle James.
Conservative MP for South Thanet Laura Sandys (left) is the daughter of the former Conservative MP and Secretary of State for Commonwealth Relations and the Colonies, Duncan Sandys (right), who had married and divorced Winston Churchill's daughter Diana (far right) before marrying Laura's mother.
Her grandfather George John Sandys was also a Conservative MP, between 1910 and 1918.
The Conservative MP for Ludlow, Philip Dunne, is another third-generation MP: his grandfather and great-grandfather represented Stalybridge and Hyde for the Conservatives and Walsall for the Liberals respectively.
Two generations
It is far more common to see two generations of the same family sitting on the green Commons benches, often at the same time.
Among the current crop of 650 MPs, two are the daughters, and 19 are the sons, of former MPs.
Among them is Ben Gummer, the son of former Conservative cabinet minister John Gummer, who handed over the reins in 2010, departing his Suffolk Coastal seat as Gummer Jr clinched nearby Ipswich for the party his father represented for the best part of four decades.
Ben Gummer won the right to stand for Parliament in an open primary, described at the time by the local paper as a "Big Brother-style public vote", helping him to shrug off dynastic comparisons.
Meanwhile Gummer Sr, now Lord Deben, is on hand with helpful advice should it be needed, having been appointed to Parliament's upper chamber soon after standing down as an MP.
Deputy Speaker and Labour MP Lindsay Hoyle is also following in his father Doug's footsteps.
Mr Hoyle Sr, a Labour MP for nearly 25 years, became Lord Hoyle in 1997, thereby also retaining the right to legislate as a member of the upper chamber.
One generation
A desire to join the Commons is not only transferred down the generations - it can also seemingly be passed around within a generation.
There are six married couples of which both spouses currently sit as MPs, including Lib Dems Jo Swinson (left) and Duncan Hames (right).
Labour's shadow chancellor Ed Balls (left) joined his wife Yvette Cooper (right), the shadow home secretary, in Parliament in 2005. She had been elected eight years earlier.
The wives of two MPs, Lib Dem Sir Alan Beith and Conservative MP Peter Bottomley, formerly served on the green leather benches: Baroness Maddock and Virginia Bottomley.
There are two pairs of siblings in the Commons: twin Labour MPs Angela and Maria Eagle (above), and fellow Labour members Valerie and Keith Vaz.
Two current MPs have brothers who used to be MPs: Labour leader Ed Miliband and Conservative MP Jo Johnson (below left).
Future generations?
The hereditary principle in the Commons shows no sign of disappearing, with no shortage of examples of aspiring offspring keen to follow in their fathers' footsteps.
"Of course, politics is in my blood," Stephen Kinnock, who will contest Aberavon for Labour in 2015, has said.
His father, former Labour leader Lord Kinnock, represented another South Wales constituency, Bedwellty, and its successor seat, Islwyn, from 1970 to 1995.
It remains to be seen whether the career trajectory of Mr Kinnock, 44, will echo that of his father, whose ambitions to run the country were twice thwarted by the electorate - or his wife, Helle Thorning-Schmidt, who is Prime Minister of Denmark.
David Prescott, the son of another ex-MP to have taken up residence in the upper House, is understood to be seeking to become an MP.
So far, his efforts have gone unrewarded: campaigns for candidacy at the 2010 general election in Hull East and at the 2015 general election in Greenwich and Woolwich were both unsuccessful.
"Now back to normality and a life," he said after hearing he had missed out in Greenwich. He had reportedly pledged not to employ any family members if elected.
The son of ex-Labour Home Secretary Jack Straw, Will, has been selected to fight the constituency of Rossendale and Darwen for Labour at the 2015 election.
If he can topple the Conservative incumbent Jake Berry, who enjoys a majority just shy of 4,500, he will take over almost exactly where his father leaves off: Mr Straw, who has represented the adjacent seat of Blackburn since 1979, has said he will stand down at the next election.
Ex-Labour PM Tony Blair's son Euan is thought to be considering a bid for Parliament, although he has not publicly declared whether he plans to stand or not in 2015.
Up a generation?
Finally, to show that a desire to enter Parliament does not only flow down and within generations, Stanley Johnson, the London mayor's father, stood for the Conservatives in Teignbridge in 2005, four years after Boris had joined the Commons.
It was not a runaway triumph, as he later wryly admitted in the Guardian: he had misspelled the name of the constituency and pledged to deliver "more talk and less action" in his campaign literature.
But this did not stop him having another shot three years later, attempting to succeed his son as MP for Henley. He was not selected as the Conservative candidate that time around.
It remains to be seen whether Mr Johnson Sr will redouble his efforts at any future general elections.