MP Sir Peter Tapsell to stand down in 2015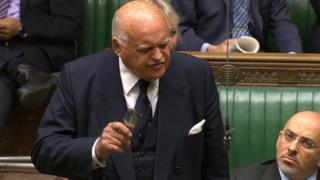 Veteran Conservative MP Sir Peter Tapsell is to stand down as an MP at the next election.
Sir Peter, the MP for Louth and Horncastle, is the "Father of the House", having served continuously as an MP since 1966 - longer than any other member of Parliament.
He was first elected in 1959 but lost his seat in 1964, only to re-enter the Commons two years later.
He has not served in government but was an opposition spokesman in the 1970s.
During the 1955 general election, Sir Peter, now 84, was the personal assistant to then Conservative prime minister Anthony Eden.
The BBC's Tim Iredale said the MP will inform his constituency party of his decision to retire at the next election, in May 2015, at a meeting later on Friday.
'Grandest grandee'
Sir Peter is one of the most recognisable figures in the House of Commons, regularly drawing on his long experience as an MP and his own historical observations in his questions to David Cameron and other ministers.
Recent research by the BBC found that he has asked more questions at the weekly session of Prime Minister's Questions than any other MP since 2010.
Sir Peter represented the constituency of Nottingham West for five years between 1959 and 1964.
After a two-year break from the Commons, he returned as MP for Horncastle in 1966 and has represented the seat - which has changed names several times due to boundary changes - ever since.
He served briefly on the frontbench as a foreign affairs and then Treasury spokesman but resigned in 1978 in protest at Mrs Thatcher's monetarist policies.
Described as "the grandest of grandees" by the late sketch writer Simon Hoggart, Sir Peter is a longstanding eurosceptic, rebelling eight times against the government since 2010.
He was appointed to the privy council, a rare honour for a backbencher, in 2011.
The next longest serving members of the Commons are Labour MPs Sir Gerald Kaufman, Michael Meacher and Denis Skinner and former Tory Chancellor Ken Clarke, who were all first elected in 1970.
Should he be re-elected in 2015, Sir Gerald will become Father of House by dint of having signed the oath of allegiance before the other three in 1970.