Chancellor keen to talk up East Midlands manufacturing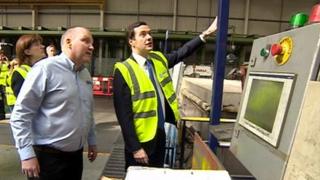 My theory about George Osborne? He must have had a jumbo-sized train set when he was young. Trains, tracks, widgets and washers: it can be the stuff of dreams.
Whenever I've interviewed him, he smiles and shines at the mention of manufacturing. Little wonder he enjoys his away-days in the Midlands, both East and West.
The East Midlands economy shows real signs of revival.
We were at Boal Aluminium, a Dutch-owned manufacturer, at its UK production centre at Shepshed, near Loughborough in Leicestershire.
It employs 130 staff and makes very unglamorous aluminium components for the construction and automotive industries.
Youth unemployment
Thirty per cent of Boal's output is exported to the EU, but it's the UK's economic upturn that's given the business a lift. It's taking on new staff.
"People can see that the measures we are taking are benefiting manufacturing," the Chancellor told me.
"This is all part of our economic plan for greater economic resilience in this country."
His post-Budget visit to the East Midlands coincided with the announcement of a £36m boost to apprenticeships and youth employment prospects for Leicester and Leicestershire, under the government's City Deal.
"We are tackling youth unemployment," he added.
"We are investing in the skills of young people. And as the economy grows, that's the way to grow living standards."
But following his visit, a warning from Conservative-run Leicestershire County Council.
'Economic security'
On top of its current £110m funding gap, it's calculated the Chancellor's Budget will mean finding additional savings of £27.5m. That's because he extended to 2018/19, the Coalition's austerity measures.
The post-Budget fall-out has also included anxieties from countryside organisations over the impact of a housing boom on the green belt. George Osborne has a robust response to that.
"We have a planning system that protects our green belt," said the Chancellor.
"But it also ensures that homes can be built where people want them.
"This makes sure young families can afford a house and that they can have the economic security of home ownership."
George Osborne's parting comment to me was his praise of the makers and manufacturers of the East Midlands.
"It is so important that the East Midlands is making things, and that businesses are investing.
"That means workers here will have more economic security and there's the prospect of more jobs."
It's a message we can expect from now up to the General Election, unless the economic wheels come off that train set.