Queen approves Tony Benn overnight vigil in Parliament's chapel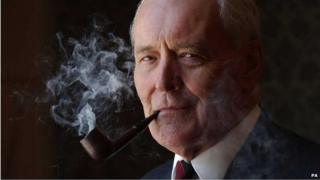 The Queen has granted permission for the body of Tony Benn to rest overnight in Parliament's chapel, Commons Speaker John Bercow has announced.
In a short statement to MPs following a special Commons tribute session to the former Labour MP who died last week, Mr Bercow said there would be a "private, family service" for Mr Benn.
MPs, peers and parliamentary staff will then have the chance to file past his coffin and pay their respects, he said.
The vigil is scheduled for Wednesday.
Mr Benn's coffin will then be transported from the Chapel of St Mary Undercroft in Parliament to nearby St Margaret's Church for his funeral on Thursday.
Baroness Thatcher's body also rested in the chapel on the eve of her funeral in April last year.
A spokeswoman for Mr Bercow said earlier: "Tony Benn's time as an MP spanned more than 50 years and he is one of only two MPs to be awarded the freedom of the House - the other being Edward Heath - in recognition of his very long and distinguished service as an MP.
"It is this almost unique distinction which forms the basis for Tony Benn to be accorded the privilege to 'rest' in the chapel on the eve of his funeral."
MPs took part in a special debate dedicated to the memory of the late MP, who served in the cabinet under under Harold Wilson and James Callaghan but staged a divisive challenge for the deputy leadership of the party in 1981.
Leading the tributes, Deputy Prime Minister and Liberal Democrat leader Nick Clegg said Mr Benn would be remembered for his "kindness, his charm, and sense of humour".
"Many of the the battles he fought were very much of their time, such as renationalisation and turning back the tide on globalisation," he said.
"Yet on so many other issues, Tony Benn was far ahead of his time. This includes his passionate commitment to protect civil liberties, promote equality and secure political reform in Britain."
"Above all else, Tony Benn was a dedicated democrat. He never forgot struggles of those who fought down the years for the right to vote, speak and be heard.
"This uplifting idea to help people realise the power they have to change the world for the better will be his lasting legacy.
"Everybody who heard Tony Benn speak, whether they admired his views or not, could not help but learn from the passion and conviction that he brought to the causes he believed in."
Labour deputy leader Harriet Harman said Mr Benn had a "genuine interest in people" who made time for everyone he met and was a "great family man".
"It was a parliamentary occasion every time Tony Benn spoke in this House," she continued.
"I well remember that when we saw Tony Benn on the monitor we would all stop what we were doing and rush to the chamber to listen to him.
"He was a great orator," who had been blessed with formidable intellect and great historical knowledge, she continued,
But more than this, "he spoke out of conviction and he always spoke from the heart", she said, praising his support for the "green movement and the women's movement".
She concluded: "His legacy is not just to this House and to progressive politics in this country but also to the commitment taken forward by his children and his grandchildren."
Conservative MP Sir Peter Tapsell told the Commons that he was the only remaining MP who had voted in favour of the 1963 legislation which enabled Mr Benn to renounce his hereditary title and stand for re-election to the Commons. Previously members of the peerage had been banned from being MPs.
Sir Peter recalled hearing a speech at Oxford University from the newly elected Mr Benn, who became an MP aged just 25.
"He came in full evening dress," he said. "He was strikingly handsome.
"He made a stunning speech. I remember thinking to myself how am I ever going to be able to compete with that, and of course I never was able to. Very few people were ever able, as orators, to do so."
Sir Peter said he rated Mr Benn as one of the top four parliamentary debaters of the last half century, alongside Nye Bevan, Michael Foot and Enoch Powell.
"At his best he was spellbinding, so that listening to him one was sometimes in danger of being intellectually swept towards some of the wilder shores of politics," Sir Peter continued.
He was a "great parliamentarian and a good man", Sir Peter said. "England will remember him."
Drawing the debate to a close, Mr Benn's son Hilary, himself a Labour MP, paid tribute to his father's determination to end apartheid, abolish the death penalty, support the miners, and campaign for peace.
"He loved this place," Hilary Benn told MPs. "He loved the people who built it, those who help us in our work, he loved the debate and the argument.
"But he did not idealise Parliament. He saw it as the means to an end, to be a voice for the movements outside these walls who seek to change the world for the better, as well as being a voice for the people who send us here. That was the essence of his character."
His father had been a socialist, a non-conformist and a dissenter at heart, Mr Benn continued.
"He knew what he thought, and he was not afraid to say it. He showed constancy and courage in the face of adversity.
"Whatever the scribes and the Pharisees may have to say about his life, it is from the words and kindnesses of those whose lives he touched that we, those who loved him most, take the greatest strength.
"After all, any life that inspires and encourages so many others is a life that was well lived."