Tony Benn: Scottish tributes paid to former Labour MP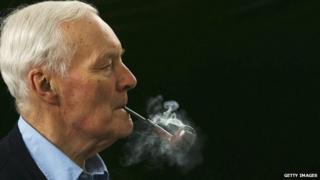 First Minister Alex Salmond has led Scottish tributes to former Labour MP Tony Benn, who has died aged 88.
Mr Salmond described Mr Benn as an "outstanding figure" who had "reinvigorated grass roots politics".
Scottish Labour leader Johann Lamont said Mr Benn was a "giant of the Labour movement" who had "unshakeable beliefs".
The veteran left-wing politician and campaigner died on Friday morning at his home in London.
Mr Benn will be remembered by many in Scotland for the key role he played in the campaign to save the Upper Clyde shipyards from closure in the early 1970s.
He was also a prolific speaker on the lecture circuit, filling Glasgow's Royal Concert Hall in January 2013.
In his tribute, the first minister spoke of the "cross-party" respect for Mr Benn.
Mr Salmond said: "Tony Benn was an outstanding figure whose career encompassed several political generations.
"Like many young parliamentarians I found Tony Benn supportive and helpful, regardless of political differences, and it was on his unfailing courtesy to opponents that much of his cross-party respect was founded.
"His political reputation will transcend the internal Labour party battles of the seventies and eighties and be founded instead on a politician whose writings and campaignings reinvigorated grass roots politics."
'Unshakeable beliefs"
Scottish Labour leader Johann Lamont spoke of Mr Benn's "amazing life at the heart of British politics".
"Whether you agreed with him or not, Tony Benn was always compelling, interesting and entertaining with unshakeable beliefs and a clear sense of right and wrong," she added.
"Tony was a giant of the Labour movement when I first joined the party and we were wrestling with big ideas about our future direction.
"But even in his later years, he remained relevant and influential with his wit and wisdom on a range of issues, from international affairs to Scottish devolution."
Former Labour Prime Minister Gordon Brown called Mr Benn "a powerful, fearless, relentless advocate for social justice and people's rights whose writing as well as speeches will continue to have a profound influence on generations to come."
In 1971, Mr Benn, whose mother Margaret was born in Paisley, joined the campaign to stop the closure of the Upper Clyde shipyards.
'Work-in'
Instead of a strike, the men were engaged in a "work-in", part of industrial action that lasted a year and inspired workers around the world.
On 18 August 1971, Mr Benn linked arms with union leaders Jimmy Reid and Jimmy Airlie and marched in protest from the city centre of Glasgow to Glasgow Green, where 80,000 had gathered.
In 2011 he said of his involvement: "People spoke with such passion about their work and their life and why they were so determined, and it just gave me a lift."
Tory prime minister Ted Heath eventually conceded defeat, and invested £35m in the shipyards.
Pat Rafferty, Scottish secretary of the union Unite, described Mr Benn as a "genuine hero".
He said "Tony Benn was, is and always will be a giant of our movement and our class, a genuine hero to ordinary people in a time when heroes are so hard to find.
"In recent years we had the great pleasure and privilege of welcoming Tony back to Scotland in celebration of the Upper Clyde shipbuilders 40th anniversary.
"As the guest of honour that evening, you could see the genuine love and respect which people of all ages had for Tony and the inspiration that they drew from his words and deeds."