Storm damaged coastal towns can bid for £64m fund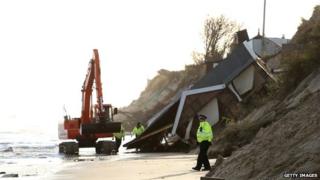 Coastal towns damaged by storms and flooding will be able to bid for a share of a £64m regeneration fund, ministers have said.
The Coastal Communities Fund was set up to pump government money into depressed coastal areas across the UK.
Fifty projects were awarded a share of £27.7m on Friday to create new apprenticeships and training places.
But ministers said areas affected by storms would be prioritised in the next bidding round.
In England, £17m from the fund was allocated to development projects in areas hit by the recent severe weather, including Great Yarmouth, Weymouth, North Tyneside, Devon and Cornwall.
The new projects announced on Friday include:
£1.3m to diversify tourism in Southend, including a Seafront Apprenticeship scheme
£170,000 to develop the Arran Coastal Way in Scotland
£270,000 to develop Northern Ireland's first lobster hatchery
£100,000 to support the creation of a new water sports centre in Colwyn Bay in Wales
Chief Secretary to the Treasury Danny Alexander declared the next round of bidding open on a visit to Hull, which is getting £300,000 to help turn a disused dock into a technology centre.
It will support £64m of projects across England, Wales, Northern Ireland and Scotland over the next three years, with priority given to flood defences and repair.
Communities Secretary Eric Pickles said: "We want to help our seaside towns affected by the recent flooding get back on their feet as soon as possible.
"In England, nearly three-quarters of these regeneration projects funded today are in flood affected areas and our support will help these communities show they are 'back in business'."
Inland areas in England affected by flooding will benefit from a one-off £5m freed up from the Coastal Communities Fund reserve.
The Coastal Communities Fund was set up in 2012 to try to help deprived coastal towns create new business opportunities, jobs and skills that will benefit the area.
The money behind it comes from the Crown Estates, which own the rights to fish farms, wind farms, ports and marinas. Successful bidders are given money equivalent to 50% of revenues generated from things like offshore wind and tidal power and ship moorings in the area.
It is administered by the Big Lottery Fund, which has powers to deliver funding from non-Lottery sources for charitable purposes or purposes connected with health, education or the environment.