UK will stand up for Ukraine, says David Cameron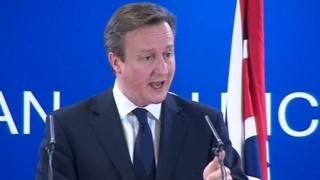 David Cameron has promised to "stand up" for the people of Ukraine, after the European Union agreed to take measures against Russia over its actions in Crimea.
The EU suspended negotiations with Russia on setting up visa-free travel in Europe and said it would look at asset freezes and travel bans.
Mr Cameron promised "far-reaching consequences" if there was no further diplomatic progress over Crimea.
The message was "very clear", he said.
MPs in Crimea have asked Moscow to allow the southern Ukrainian region to become part of the Russian Federation.
Crimea, a peninsula whose population is mostly ethnic Russian, has been at the centre of tensions following the fall of Ukraine's pro-Moscow president.
Pro-Russian and Russian forces have been in de facto control of Crimea for several days.
EU leaders met in Brussels on Thursday to decide how to deal with the situation.
They decided to:
Suspend negotiations with Russia on establishing visa-free travel in Europe
Consider asset freezes and travel bans if there is not further diplomatic progress
Promise "economic consequences" such as trade and financial sanctions, if Russia makes further incursions in Ukraine
Speaking at a news conference, Mr Cameron said: "We cannot accept Russia creating new facts on the ground without these talks taking place. Illegal actions committed by Russia cannot pass without a response. It cannot be business as usual with Russia.
"If Russia does not rapidly engage in direct talks with the Ukrainian government to find a solution to this crisis we have been clear in the statement today that we will go further."
He also said the UK had "always stood up for the Ukrainian people" and would continue "standing up for people who want to exercise choice and freedom over how they are governed and the direction they want to take their countries in".
'Degree of humility'
He added; "What the European Union has signed up to today will, I think, show that, if further steps are taken by Russia to destabilise that country [Ukraine], then we will consider measures that have far-reaching consequences for the EU's relationship with Russia."
Speaking on BBC One's Question Time, former Conservative Deputy Prime Minister Lord Heseltine dismissed calls for any action beyond sanctions against Russia, saying the West should "have a degree of humility on the idea that military intervention or something of that sort is going to solve anything".
For Labour, shadow work and pensions secretary Rachel Reeves said: "The best way to help is to get people sitting around the table with each other. That's a role for Britain and the EU."
Liberal Democrat justice minister Simon Hughes said it was important "to be sensitive to Russian history", while offering support to Ukraine.