UKIP 'has cleansed' Tories, says MP Robert Halfon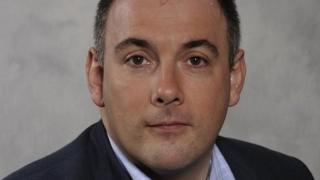 The UK Independence Party has done the Conservatives an "enormous favour" by "cleansing" the Tories of members with views it finds distasteful, a Tory MP has claimed.
Robert Halfon said some in UKIP had "abhorrent and frightening" opinions.
One MEP's call for Muslims to sign a declaration of non-violence was "akin to the Nazis saying Jews should wear a yellow star", he added.
But UKIP leader Nigel Farage called the comments "hysterical slurs".
The Conservative Party also distanced itself from Mr Halfon's remarks, with a spokesman telling BBC News the MP, who is Jewish, was speaking in his own capacity as a backbencher and was "responsible for his own words".
Speaking to The House magazine, Mr Halfon mentioned Godfrey Bloom, the former UKIP MEP who last year resigned from the party's group in the European Parliament after being criticised for joking that a group of female UKIP members who did not clean behind their fridges were "sluts".
'Big arguments'
He also referred to UKIP MEP Gerard Batten, who has recommended that UK Muslims sign a code of conduct.
Mr Halfon, MP for Harlow, said: "To me there are two kinds of UKIP - the Godfrey Bloom guy who's like a cross between Sid James and Bernard Manning, and then there's a much more sinister element, like the MEP who said every Muslim has got to sign a declaration of non-violence, which to me is literally akin to the Nazis saying Jews should wear a yellow star.
"I genuinely find it abhorrent and frightening. I'm amazed that man is still an MEP, how someone could say such a thing and then not apologise for it."
He also said: "In many ways UKIP have done us an enormous favour because they're cleansing people from the Tory party that had these kinds of views, which is great because I don't want people who have those kinds of views in my party. So good luck to them, really."
Mr Farage said: "Mr Halfon's hysterical slurs are the result of a growing Tory terror of UKIP's rising popularity all over the country.
"Because I believe in taking politics and the big arguments directly to the people, UKIP will now be having a national action day in Harlow.
'Flocking to us'
"Let the voters of Harlow hear what we have got to say. I know that many of them are already flocking to our side."
He added: "As we approach the next general election we will also consider whether to add Harlow to our target seat list given the positive response of people in the town to our message."
Mr Batten told BBC News he had first floated the idea of a declaration by Muslims in 2006, in response to the London bombings a year earlier.
He said he had devised the plan with an Islamic scholar as part of "an attempt to understand how the texts and doctrines of Islam lead some to extremism".