Police warning to MP was 'contempt of Parliament'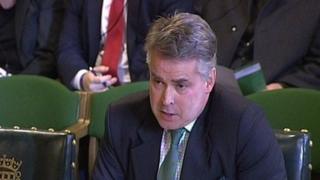 A police force was in contempt of Parliament when it warned MP Tim Loughton not to harass a constituent, the Commons Privileges Committee says.
The Police Information Notice was sent to the former minister during a long-running dispute with a constituent.
The committee said Sussex Police had made a "serious mistake" in issuing the warning, and should withdraw it.
The force said parliamentary privilege was "highly complex" and it would give the report "serious consideration".
The MPs said: "We do not consider further action is necessary in this case, subject to an appropriate response from Sussex Police.
"Nonetheless, we deplore Sussex Police's inability to recognise that the freedom of speech in Parliament, and the ability of Members to carry out their functions without unfounded legal threats, are themselves part of the law which the police uphold."
The notice was issued after Mr Loughton sent to his constituent a copy of Hansard - the transcript of parliamentary proceedings - containing a speech he made about him in the Commons.
In a statement, Sussex Police said its aim in issuing the notice to all parties in the "long-running local dispute" was "to reach a resolution, treating everyone fairly and in accordance with the law".
It added: "Police Information Notices are used to make someone aware that their actions have prompted an allegation of harassment. They do not in themselves constitute any kind, or threat of formal legal action and are issued with the intent of preventing further escalation of an issue.
"The question of Parliamentary Privilege and associated legislation is highly complex... the committee recognises that our breach was inadvertent."