Cabinet secretary responds to Labour letter on arrest of ex-No 10 aide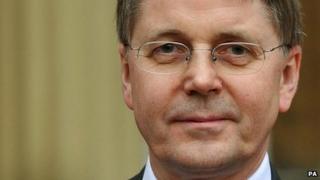 The cabinet secretary, Sir Jeremy Heywood, has responded to a Labour letter which posed a series of questions about the arrest of former senior No 10 adviser Patrick Rock.
Sir Jeremy said his "overriding concern" was not to prejudice the on-going police investigation.
No 10 had not made any details public at the time of the arrest because it had been deemed inappropriate, he said.
Labour had said it had a number of questions needing to be answered.
Mr Rock has not been charged, but is understood to have been arrested on suspicion of an offence relating to child abuse imagery.
Labour's shadow minister Jon Ashworth said he recognised that the police investigation must be allowed "to take its course".
But he said some "important questions" that did not relate to the investigation itself arose from Mr Rock's "senior role at the heart of government" and "close working relationship" with Prime Minister David Cameron.
Among the questions he asked were:
When was No 10 and David Cameron himself first made aware of Mr Rock's involvement in a potential offence?
How much time elapsed between this, Mr Rock being spoken to and the police being alerted?
What contact have officials had with Mr Rock since his resignation?
Why were details of his resignation not made public immediately?
What was Mr Rock's level of security clearance?
Sir Jeremy responded: "I will try to respond to your specific questions but, as you recognise, in doing so my overriding concern must be to avoid doing anything to prejudice or undermine an on-going police investigation.
"Downing Street became aware of a potential offence relating to child abuse imagery on the evening of 12 February. I was immediately informed of the allegation and the prime minister was also briefed.
"Officials then contacted the NCA (National Crime Agency) to seek advice on how to report suspected criminality.
"Our subsequent actions were driven by the overriding importance of not jeopardising either their investigation or the possibility of a prosecution.
"Patrick Rock resigned on the evening of 12 February. His resignation was not made public as we judged it was inappropriate to make an announcement while the NCA investigations were continuing.
"A few hours later he was arrested.
"We also arranged for officers to come into Number 10 to have access to all IT systems and offices they considered relevant.
"There has been no contact from officials with Mr Rock since his arrest.
"Mr Rock was cleared to the standard SC level which was appropriate for the classification of material to which he needed to have access."
Mr Rock had been a fixture in the upper echelons of the Conservative Party for three decades, initially working for Margaret Thatcher, and had been brought back into Downing Street by David Cameron in 2011.
As deputy head of the policy unit, he was one of a number of officials who had been working on policies to rid the internet of child abuse, our correspondent said.
Mr Rock was involved in preparations for a summit last year, working with the NCA, at which leading companies agreed to make it as difficult as possible to find images of abuse on their search engines.
Downing Street said ministers, not advisers, determined the policy.