Unite union cuts Labour funding by £1.5m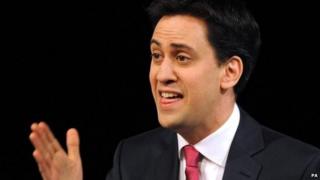 The Unite union is to cut the amount it pays Labour in affiliation fees by half to £1.5m, its executive has decided.
The move follows Ed Miliband's reforms to the Labour-union funding link, agreed at a conference last weekend.
Unite said it would still try to "maximise" the number of its supporters backing the party ahead of the next general election.
Labour said it had always acknowledged that its "ambitious" changes would have "financial consequences".
The GMB union decided last year to cut its affiliation fees by 90%.
'Mass movement'
Historically, millions of union members have been automatically affiliated to Labour, but Mr Miliband has argued that few take part in campaigning activities or even vote in general elections.
In future by allowing union members to actively opt in to be a supporter, for a £3 fee, Mr Miliband says Labour can be transformed into a genuine "mass movement".
The new opt-in arrangements will apply immediately for new union members, and within five years for existing members.
Following a meeting on Wednesday, Unite - the UK's biggest union - said it would affiliate 500,000 members to the party in 2014 and would review the number annually.
The union had affiliated one million members, worth £3m a year to Labour, so the move will effectively cut funding by about £1.5m.
In a statement, it said: "The union will rapidly prepare a plan to ensure that we maximise the number of our political levy-paying members who express support for our continuing collective affiliation, and who take advantage of the possibility of becoming associated members of the party."
It added: "When the leader of the party announced his intention to seek changes in the Labour-union relationship in summer 2013, he made it clear that he did not think it appropriate that the party continue to accept affiliation fees from those who had not actively assented to such payments. Unite accepted that principle at the time."
'Same old Labour'
Unite's executive also authorised general secretary Len McCluskey to respond to any requests for additional financial assistance from Labour, with a general election just over a year away.
A Labour spokesman said: "We have always acknowledged that the ambitious reforms to change the Labour Party and the way politics is done in this country would have financial consequences."
He added: "Our members and small donors already give us more money than the trade unions, and the introduction of affiliated supporters and the growth of registered supporters gives us new opportunities to change our funding base in favour of many small donors rather than a few big ones."
Grant Shapps, chairman of the Conservative Party, argued the move by Unite demonstrated that Mr Miliband's reforms were "another short-term gimmick that's unravelling as soon as it's been announced".
He added: "Len McCluskey is deeper in the driving seat than ever, controlling the Labour Party's purse strings going into the general election.
"Labour policy will continue to be dictated by union barons rather than the long term interests of Britain. It means more borrowing, more spending and more taxes - hitting families across the country and making us all less secure. It's the same old Labour Party."