Cameron 'still plans' recall powers to get rid of MPs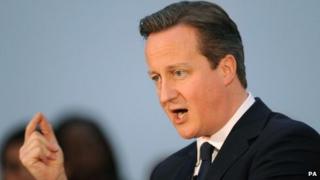 David Cameron has insisted plans to give voters the power to remove MPs found guilty of serious wrongdoing are going ahead, after it was reported they had been shelved.
The prime minister's spokesman said he still wanted to introduce a parliamentary bill to bring in the power of "recall" when "time allows".
Last month, the Lib Dems accused the Conservatives of scuppering the plan.
But the PM had always been clear he wanted recall, his spokesman said.
Calls to introduce the power of recall - used in several states of the US to allow people to deselect politicians - grew following the MPs' expenses scandal in 2009.
The Conservative-Lib Dem coalition government promised a similar system in its founding agreement in 2010.
'Change of tune'
It said there should be a by-election where MPs had committed "serious wrongdoing" and at least 10% of constituents had signed a petition calling for it.
Last month Lib Dems accused Mr Cameron of choosing not to include this in May's Queen's Speech - the government's legislative plans for the year - meaning it could not become law before the next general election.
But Mr Cameron's spokesman said: "We don't try to pre-brief the Queen's Speech but certainly the prime minister made very clear his commitment to introducing that power.
"It is part of the coalition agreement. There was a draft bill that was published. That has long reflected the prime minister's view.
"The political and constitutional reform committee published a report on that draft bill. Last year the government accepted the majority of those recommendations.
"It will be on that basis that the legislation will be introduced when parliamentary time allows."
But a senior Lib Dem source called the comments "a surprising change of tune" from the Conservatives.
They said: "The Liberal Democrats in government have consistently been arguing for a recall bill in the fourth term of this Parliament and the Tories have consistently opposed that, so we welcome their conversion to our position.
"We hope they are being genuine about it this time, because some of their previous commitments to political reform have been skin-deep at best."
A Labour spokesman said: "It tells you all you need to know about David Cameron that his idea of big news is that he's finally thinking of keeping a promise.
"He promised a recall bill years ago but, as with so many of his promises, he's failed to deliver."
The most famous instance of recall being used successfully came in California in 2003, when the Republican former film star Arnold Schwarzenegger used it to unseat the state's Democratic governor, Gray Davis.