Ukraine praised for 'refusing to rise to Russian provocation'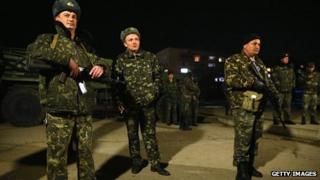 The government of Ukraine should be commended "for refusing to rise to provocation" from Russia, the UK's ambassador to the UN has said.
Mark Lyall Grant told a UN Security Council meeting there was "no justification" for Russian action.
He joins the prime minister in condemning Russia's presence in Crimea.
There have been no reported incidents since the 03:00 GMT deadline allegedly set by Russia for Ukrainian forces in Crimea to surrender or face attack.
Russia has denied issuing any ultimatum to Ukraine, but Vladimir Putin has said Russia reserves the right to protect its interests.
Moscow's UN envoy Vitaly Churkin told the third Security Council meeting in four days that ousted Ukrainian President Viktor Yanukovych had asked Russia to send troops across the border to protect civilians.
'Violation of sovereignty'
His comments came as Kiev's UN envoy Yuriy Sergeyev said Russia had deployed about 16,000 troops to Crimea.
Mr Lyall Grant said: "The world can see that Russian military forces have taken control of the Crimean Peninsula, part of the sovereign territory of Ukraine. This action is against the expressed wishes of the legitimate Ukrainian government.
"It is a clear and unambiguous violation of the sovereignty, independence and territorial integrity of Ukraine, and is a flagrant breach of international law.
"Just as we condemn the Russian Federation for its confrontational acts, we commend the government of Ukraine for refusing to rise to provocation."
Meanwhile, sources have told the BBC that an official document photographed as a senior official walked along Downing Street on Monday was a draft and did not go to the National Security Meeting being chaired by David Cameron.
The document said the UK government would not curb trade with Russia or close London's financial centre to Russians as part of any possible package of sanctions against Moscow.
The same paperwork appeared to confirm that ministers are considering - along with other EU countries - visa restrictions and travel bans on key Russian figures.
It also said that ministers should "discourage any discussion (eg, at Nato) of contingency military preparations" and support "contingency EU work on providing Ukraine with alternative gas" and oil supplies "if Russia cuts them off".
Mr Cameron said on Monday that diplomatic, political and economic pressures will be put on Russia to send a "clear message" about its actions in the Ukraine.
Earlier Foreign Secretary William Hague said the situation was the "biggest crisis" facing Europe in the 21st Century and called for immediate dialogue between Russia and Ukraine.
Mr Hague will update MPs on Tuesday on the latest efforts to find international agreement on how best to punish Moscow for its occupation of Crimea.
US Secretary of State John Kerry is due in Kiev for talks amid speculation the US could unilaterally impose tough measures.
'Ignoring history's lessons'
The BBC's political editor Nick Robinson said there had been an "enormous gap" in the rhetoric between Mr Kerry, who has appeared on TV listing a series of possible sanctions the US might try to impose on Russia, and Mr Hague, who has been reluctant to spell out any specifics.
There has been strong resistance in the EU to turning tough words into tough actions, Nick Robinson said, because the UK wanted to keep roubles flowing into London, France wanted to maintain sales of warships to the Russian navy, and Germany wanted to retain its access to Russian oil and gas supplies.
Former US presidential candidate John McCain said he was "disappointed" by the UK's position and said European countries - who are concerned about the economic impact of tough measures on Russia - were "ignoring the lessons from history".
The UK and other G7 nations have already said they are suspending preparations for this year's G8 summit in Russia, while the US has hinted at stronger measures, such as possible sanctions and asset freezes on Russian business.
The G7, which comprises the UK, US, Canada, France, Germany, Italy and Japan, has called on Moscow to "address any ongoing security or human rights concerns that it has with Ukraine through direct negotiations".
It has also repeated its commitment to provide substantial financial backing to the new Ukrainian government, with talks with the International Monetary Fund due to begin in the coming days.
The UK, itself, has said it will give £10m to Kiev to support economic and political reforms.
The Russian incursion was triggered by former Ukrainian leader Viktor Yanukovych's removal from power, following four months of street protests that culminated in bloody clashes between demonstrators and security forces.
The Foreign Office has advised against all travel to Crimea, and urged British nationals in the peninsula to leave.