UKIP set for European election TV boost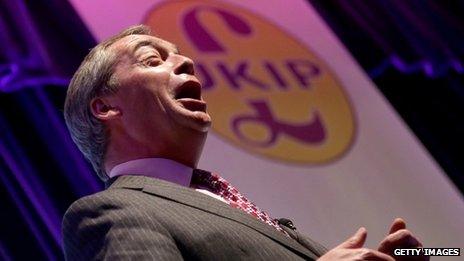 UKIP is set to get more TV exposure in the run-up to May's European elections after watchdog Ofcom said it would be considered as a "major party".
It will get at least two election broadcasts on ITV and Channel 5, twice as many as in the past, as well as an "appropriate" share of news coverage.
Ofcom said UKIP had performed strongly in the past and had "significant" current support in England and Wales.
However, the ruling does not apply to Scotland-only broadcasts on STV.
UKIP leader Nigel Farage has said his party, which campaigns for the UK to leave the European Union, is capable of coming top in May's poll, beating both Labour and the Conservatives.
Ofcom said UKIP should now be regarded as a "major party" - alongside the Tories, Labour and Lib Dems - for the purpose of European election broadcasts shown across the whole of the UK.
This means it will qualify for a minimum of two election broadcasts although it will be up to individual broadcasters to decide how many it gets in relation to the other parties.
In past elections, UKIP has been given one broadcast in recognition of the number of candidates it has fielded and a range of other criteria.
In reaching its decision, the regulator said it had taken into account the party's performance in the 2004 and 2009 European elections, when it won 12 seats and more than 17% of the share of the total vote in both polls.
UKIP, it added, also had "significant" levels of current support, with average poll ratings across Britain of more than 10%.
The new status will also apply to election coverage and broadcasts on Wales-only channels, such as ITV Wales, after Ofcom said the party's current support had "materially increased" in Wales.
However, it will not apply on Scotland-only networks, with the party recording less than 4% support in the polls there.
The broadcasters must also comply with Ofcom's code on due impartiality by giving the party "appropriate" levels of coverage in their wider election reporting.
Ofcom has, however, not given UKIP "major party" status in relation to May's English council elections.
Although UKIP got nearly 20% of the vote in council elections last year, the regulator said this was the only time that it had garnered more than 5% of the vote in local polls.
Ofcom said it would keep the party's status "under review" with regard to coverage during the 2015 general election and, if there were "cogent reasons" to do so, would reconsider the matter this autumn.
ITV and Sky News have said Ofcom's advice would be one factor they will consider in deciding whether UKIP leader Nigel Farage should be included in any general election debates between the party leaders.
Mr Farage said he should be included in any debates although the other party leaders dispute this.
Channel 4 is not obliged to carry any European election broadcasts while the BBC has its own impartiality guidelines, transmitting two UKIP broadcasts during the 2009 European campaign.