Britain's next EU commissioner: Runners and riders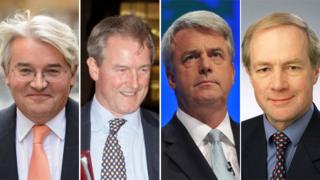 Who will be Britain's next EU commissioner?
The mandate of the current European Commission, including Britain's Baroness Ashton expires at the end of October and the manoeuvring for Britain's nomination to the key post is under way.
It's a plum job - power and influence at a key moment for Europe, a team of advisers and assistants with a salary of around a £250,000.
So it's no surprise speculation is already rife as to who will be our next man or woman in Europe.
But one figure, widely tipped as a leading contender has already ruled himself out.
Former Defence Secretary Liam Fox told me: "No - I have no intention of leaving the House of Commons in the foreseeable future."
He said that with a very important general election looming and a referendum on Britain's membership of the EU if the Conservatives win, it was no time to be deserting these shores.
'Huge challenge'
So who else?
Andrew Mitchell, the former government chief whip has some support - but outstanding court cases over the Plebgate affair could scupper his chances.
Environment Secretary Owen Paterson's hardline views on Europe and climate change may count against him.
Leader of the House Andrew Lansley is more consensual but some colleagues feel he lacks flair.
Former cabinet ministers Cheryl Gillan and Caroline Spelman have dismissed suggestions they could be in the running.
One name does keep cropping up - Peter Lilley, the eurosceptic former trade and industry secretary.
He told me: "It's the only job I can imagine that would persuade me to leave Parliament because its just so important, such a huge challenge.
"I would relish it, were I offered it, but other names are also in the fray."
Whoever does get the job could play a pivotal role in the renegotiation of Britain's relationship with the EU, which David Cameron has promised if he wins the next election.
Horse-trading
Mr Lilley said he had always described himself as a Eurosceptic who believed the EU has gone too far towards centralisation and the prime minister could have confidence he would not "go native" if appointed to the Commission.
There will be huge pressure from Conservative MPs to choose a Eurosceptic who will fight hard to claw back powers from the EU. But the process is immensely complicated. As a coalition partner, the Liberal Democrats will have a say.
Deputy Prime Minister Nick Clegg, a pro-European who used to work in Brussels, will be determined to ensure whoever is appointed has a constructive approach to EU reform.
Former Lib Dem leader Sir Menzies Campbell said his party did not have a veto on the choice, but Nick Clegg would want to influence the decision, to ensure the government chooses someone who wants Britain to stay in Europe and will engage positively with European colleagues.
Whoever emerges as Britain's favoured candidate must also get through all the horse-trading in Europe.
There will be numerous discussions in the margins of summits and meetings in the months ahead.
Key jobs
Portfolios will be allocated by the Commission President, who will be selected under a complex process this summer. Euro MPs will also be given a say on appointments.
Former Labour Cabinet Minister Lord Mandelson was EU Trade commissioner for four years.
He said it was vital that Britain gets one of the key economic jobs on the Commission, but that could be blocked by other European players if David Cameron proposes someone with hardline Eurosceptic views.
The Labour peer told me there is danger Britain will not get a serious portfolio, which would mean we would not be in a position to shape the future direction and agenda of Europe.
So who would he choose?
"Obviously somebody like Andrew Mitchell or Andrew Lansley would have more influence should they be appointed than hard-nosed anti-Europeans like Peter Lilley or Owen Paterson," said Lord Mandelson.
'Severely damaged'
He said it would be "counterproductive" to appoint a hardliner who would not get a weighty post and would quickly "sink without trace".
The prime minister could try to duck some of the controversy by appointing a business leader, but that risks leaving him without the political clout he needs in Brussels.
So the process represents a dilemma for David Cameron, who must balance competing demands and a Byzantine appointments process.
Sir Menzies Campbell said he believes there will be a row whatever Mr Cameron does.
He told me: "If he appoints what you might loosely call a pro-European, then those backbenchers in the Tory party who want Britain to come out of the EU or have a unique and quite different relationship with Europe will not be best pleased.
"If, on the other hand, he were to appoint a Eurosceptic, then his chances of getting the kind of agreements he wants in Europe after the election will be very severely damaged.
"For David Cameron I'm afraid it's a lose-lose situation."
Whoever gets the job will certainly face some big challenges - and of course within months of the appointment we could have a different government with very different priorities in Europe.