'Ucas-style' vocational website planned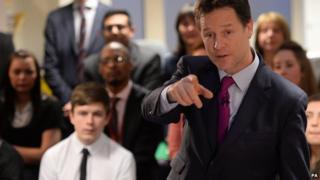 The government is to introduce a "Ucas-style, one-stop online shop" for 16-year-olds who do not want to go to university, Nick Clegg will announce.
In a speech to schoolchildren in south London, he will say the website will offer searches for college courses, apprenticeships and traineeships.
It will be based on the website of university admissions body Ucas.
"Ultimately, I want to see this process become a rite of passage for every 16-year-old," the deputy PM will say.
"At the moment, if you want to go to university, all the information you could ever need about how to do that is available to you via the Ucas website," he will say in a speech to about 500 young people at Southfields Academy.
"You can research different universities and courses, check what A-level subjects and grades you need to get in and, of course, submit and check your application."
He will add: "So at 16, when a lot of you are having to choose whether you go to college, do an apprenticeship or train for a particular trade or occupation, we think it's only right that you get the same guidance and support as those going to university."
Local authorities will be responsible for providing the website for their area.
'Level footing'
Mr Clegg will also announce improved careers guidance for pupils.
"For a lot of the young people I meet, careers guidance currently feels like a tick-box exercise squeezed into lunchtime break with a busy teacher, who no doubt already has a lot on their plate," he will say.
"So, we are issuing new guidance for schools, in the next few weeks, that will set out just what good careers advice should look like."
He said the guidance would "give every student guaranteed access to the best-quality careers advice available, whether that is face-to-face, online or via the phone".
Other changes would include "encouraging a representative for local employers to sit on every school governing body" and ensuring each school collected and published "more detailed, up-to-date information about their pupils' destinations post-16".
"This is to ensure more schools can be judged not only on their students' exam results but also on what they do after they leave."
He will also say that about 3,000 16 and 17-year-olds will take part in pilot schemes to get help from their local job centres.
At the moment, jobseekers can only go to Jobcentre Plus from the age of 18.
The Confederation of British Industry said it had "long called for a Ucas-style system for vocational qualifications".
"This is a major step forward in making vocational routes more visible and will help put it on a level footing with more traditional academic routes," director for employment and skills policy Neil Carberry said.
Fight back
On a visit to a school in East London on Tuesday, Mr Clegg said he feared "myths" about the cost of tuition were putting students off higher education.
He urged students to ignore what they had heard, telling them: "You can still afford to go to university."
The deputy prime minister is seen as launching a fight back against critics of his U-turn over scrapping tuition fees.
He repeated his apology for breaking the pledge - but said more young people than ever were going to university.