William Hague calls for end to rape as weapon of war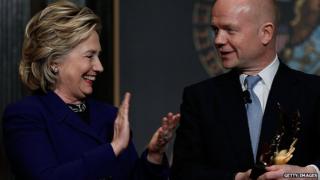 British Foreign Secretary William Hague has called for an end to rape as a weapon of war.
Speaking in Washington, where he received an award from Hillary Clinton for promoting women's rights, Mr Hague said the issue "should shame all men".
These acts be removed "from the world's arsenal of cruelty", he added.
He announced that a global summit in London in June would ask 140 nations to write action against sexual violence into military training and doctrine.
'Invisible presence'
Mr Hague said sexual violence was the last thing to be taken into account by those ending wars or rebuilding nations.
He cited the estimated 50,000 women who were raped in Bosnia two decades ago, virtually none of whom have received justice.
"We need to turn women's invisible presence in many countries around the world into a visible force in every society - with women represented in every peace process, in every government, in all walks of life," he said.
"In my view it is impossible to achieve that aspiration in a world in which the use of rape as a weapon of war goes unchallenged."
He said "many men and boys" were also victims of these crimes, adding that "their plight too must be brought out of the shadows".
"But sexual violence in armed conflict disproportionately affects women and is part of the crushing weight holding back women's development," he added.
Mr Hague said that eradicating sexual violence was a responsibility the world, and men in particular, had shirked for too long.
"On this occasion we must acknowledge that it is still considered unusual for a man and a politician to raise these issues," he said.
"But rape and sexual violence are crimes overwhelmingly committed by men and that they should happen while the world did too little should shame all men.
"Indeed, to shy away from talking about these facts is in itself unmanly."
Calling for an end to the use of sexual violence as a weapon, he said: "If women are still treated in this abhorrent way in times of war they will never be treated as equals in times of peace and that cannot be tolerated.
"We know that the world is capable of agreeing that, even during war, certain actions are unacceptable and we must remove rape and sexual violence from the world's arsenal of cruelty."
Mr Hague received his award at Georgetown University's annual Hillary Rodham Clinton Awards for Advancing Women in Peace and Security.
He said the summit on rape in war, to be held in London from 10-13 June, would be the largest such gathering and would bring together legal experts, police units and armed forces.
It will be co-hosted by Hollywood actress Angelina Jolie.
Last March, Mr Hague and Jolie - a special envoy for the United Nations High Commissioner - visited a rescue camp for women in the Democratic Republic of Congo to highlight concerns over sexual violence.
And, in May, she spoke at the London launch of a UK government initiative aimed at tackling sexual violence in war zones across the world.