UK floods: Call for Budget funding increase for defences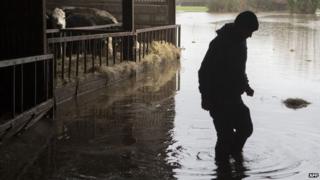 Spending on flood risk management should be substantially increased in next month's Budget, a leading engineering organisation has said.
The Institution of Civil Engineers (ICE) said the Environment Agency's annual maintenance budget for flood defences had fallen from more than £100m in 2010-11 to £60.7m in 2014-15.
David Cameron recently announced £130m in extra support for emergency repairs.
He has said "money is no object" to help those blighted by recent floods.
The ICE said the £130m cash injection was welcome but not sufficient to make up for previous cuts announced in Mr Osborne's 2010 Spending Review.
'Certainty required'
It said the Environment Agency's annual maintenance budget in England and Wales was set to fall by 39% over the four years to 2015 and is calling on the chancellor to use March's Budget to return it to its pre-2010 level.
And it said that ministers should commit to a longer-term investment programme for flood defences beyond the current five-year programme, to provide the certainty needed to improve flood resilience.
Its chief Executive Nick Baveystock said proposed spending "provided neither the level of investment nor long-term certainty required to improve resilience against flooding".
"The reductions to the maintenance settlement are also concerning, and - as the recent flooding and coastal surges have shown - the flood defences protecting our communities, businesses and the other vital infrastructure networks and services we depend on must be maintained regularly and comprehensively," he said.
"This under-spend has been detrimental to communities, business and infrastructure and government has an opportunity at the March Budget to address this."
Ministers say total spending on flood defence and maintenance between 2011 and 2015 will be higher than over the last four years of the previous Labour government, although some experts question the comparison.
Government figures show total spending on flood and coastal erosion risk management fell sharply between 2011 and 2013 but is set to rise from £606m last year to £715.1m in 2014-5.
Ministers say annual capital investment in new flood defences and major refurbishment of existing ones will rise to £370m in 2015-6 and spending will be protected, in real terms, every year until 2020-21.