Ignore tuition fee myths, says Nick Clegg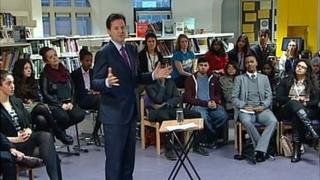 Lib Dem leader Nick Clegg fears "myths" about the cost of tuition are putting students off higher education.
On a visit to a school in East London, he urged students to ignore what they have heard, telling them: "You can still afford to go to university."
The deputy prime minister is launching a fight back against critics of his U-turn over scrapping tuition fees.
He repeated his apology for breaking the pledge - but said more young people than ever were going to university.
The Lib Dems have never recovered from the hit they took in the polls when Mr Clegg went back on his pre-election pledge to scrap fees - despite a widely-publicised apology that was even set to music by YouTube pranksters.
With the European elections approaching, and a general election in 2015, the Lib Dem leader has decided to tackle the issue head-on again.
'Not a luxury'
In a speech to students and pupils at the Bishop Challoner Catholic Collegiate School, in East London, he said: "I want to make sure not a single one of you is being put off a degree because you think it's something you can't afford."
He said the Lib Dems had made a promise before the 2010 election to scrap tuition fees but had been forced to break it, because it would cost too much money and because compromises had to be made with their Conservative coalition partners.
"I've said I'm sorry for that, and I meant it.
"But what matters to me now is that you know you can still afford to go to university - and that you don't let the myths that have emerged crowd out the facts.
"This may not have been the policy my party wanted, but I made absolutely sure that it wouldn't turn a degree into a luxury for the very rich.
"I made sure that no student pays a penny up front - you don't pay anything back until you leave university, get a job and you're earning at least £21,000."
He stressed in his speech that repayments would depend on salary and "if you don't earn enough to pay it back, eventually the money you owe is written off".
'Graduation photo'
Far from deterring poor youngsters from going to university, as some had predicted, their numbers have increased since fees went up, Mr Clegg said.
This was down to the grants and other support that has been made available and "by forcing universities to open up their doors and attract more students from lower income homes".
Some 21% of English 18-year-olds from disadvantaged backgrounds applied for university in 2014, compared with 18% in 2011 and 11% in 2004.
In his speech, Mr Clegg added: "To the mums and dads in the room: if you've always hoped to one day see that framed graduation photo of your son or daughter on your mantelpiece - you can still have it."
He took part in a a question and answer session with students at the East London school, as he sought to shake off the Lib Dems' image as the party that has betrayed younger voters.
He said the new fees system meant there was now an "incentive to universities to provide a better service to students," something he said had come as a "shock" to some institutions.
Students were much more "demanding" than in his university days when it was "easier" and "people were not under as much pressure to make decisions about their future," he added.