Peter Bone MP denies benefit fraud allegations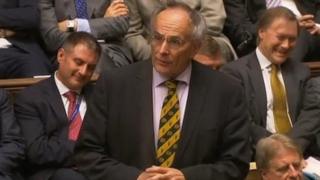 Conservative MP Peter Bone has denied allegations of benefit fraud relating to his mother-in-law.
The Times says the Crown Prosecution Service is looking into claims that assets belonging to her were concealed so Northamptonshire County Council would fund time in a care home.
Mr Bone tweeted: "The Times allegation: We have done nothing wrong. The claims made are without foundation."
There is no suggestion that his mother-in-law has acted improperly.
Anyone with assets totalling more than £23,250 must pay their own care-home fees.
Mr Bone, the 61-year-old MP for Wellingborough and Rushden, said there was no "foundation" to the accusations.
In an article on his website Mr Bone said he and his wife had been living through a "surreal nightmare". He said that in a police raid last year officers went through personal and parliamentary papers, including constituents' letters and took away boxes of information.
Sworn affadavit
He said they were subsequently asked to go to speak to the local police and were questioned for several hours.
Mr Bone says his wife Jennie has been in dispute with Northamptonshire County Council since January 2009 about what he describes as "their failure to properly fund her elderly mother's care needs".
He accused the council of failing to comply with regulations on charging for residential care and failing to apply their own appeals system. Mr Bone said that in January last year the council issued a writ against his wife claiming that she owed money and this is now subject to a civil case.
In his article Mr Bone sets out a sworn affadavit from his mother-in-law Dorothy Sweeney, giving her daughter full authority to use her money as she sees fit.
He said: "What Jennie and I find most hurtful about this whole affair, is that there is any suggestion that we would steal my mother-in-law's money. It is of course a fact that we have spent, and continue to spend, our own money looking after Jennie's mother."
Decision awaited
Mr Bone said their integrity, honesty and decency had been attacked in the most hurtful way possible and concluded: "Ultimately, the issue at the heart of this dispute is very simple: either Jennie or I have looked after her mother properly, or we are devious, thieving, crooks."
He says the answer to that is that he and his wife are "totally innocent".
Northamptonshire police have issued a statement saying: "A 61-year-old man was formally interviewed under caution in April 2013 in connection with alleged fraud offences. A police file was submitted to the CPS in November 2013 and we await their decision."
The CPS has issued a statement saying it will reach a decision as soon as it is practicable.
Northamptonshire County Council said it could not comment on the matter for legal reasons.
The MP, elected in 2005, is a high-profile Eurosceptic and has earned a reputation for his hostility towards the coalition deal with the Liberal Democrats.
He is also known for raising laughs in the House of Commons by regularly claiming to ask questions on behalf of his wife.
Before becoming an MP, he served as a councillor and worked as a chartered accountant.