Police forces may merge under Labour 'decluttering' plan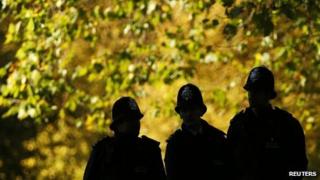 Labour is considering whether to merge police forces and axe elected crime commissioners as part of a process of "decluttering" public services.
Forces could be merged where there was local agreement, while officials not providing value to the taxpayer may be scrapped, a shadow minister said.
Chris Leslie said reforms must both benefit the public and save money.
A Conservative Party spokesman said its economic plan was "the only way to deliver a better future".
Labour has pledged to stick to the coalition's spending plans for the first year of the next Parliament if it wins the 2015 general election.
Looking further ahead, it has committed itself to balancing the books and delivering a budget surplus by 2020, matching a pledge made by Chancellor George Osborne.
'Delivering standards'
In a speech in London, Mr Leslie, shadow chief secretary to the Treasury, said discipline on the public finances did not mean services such as the NHS, the courts and local government - and the public's experience of them - could not be improved and standards raised.
"Reform is worse than pointless if it does not improve the experience of the user and ends up costing money rather than saving money," he said.
"Long-term and sustainable budget savings can only be made if we reform public services while delivering standards that people need and expect.
"We are looking not only at where efficiencies are achievable, but how services could be reconstituted to release the cashable savings that are now required."
In a report for the party last year, former Metropolitan Police Commissioner Lord Stevens called for all 41 police and crime commissioners elected in England and Wales in 2012 to be abolished.
He also set out a range of options for reducing the number of police forces in England, including voluntary mergers, a reduction from 43 to 10 regional police forces or a national service.
Costs
Labour is consulting on the plans and Mr Leslie suggested that any commissioner who cost the taxpayer more than the unelected body he or she replaced could be scrapped.
Ministers have said the cost of the crime commissioners and the police and crime panels which oversee their work must be no greater than the abolished police authorities.
Commissioners are paid between £65,000 and £100,000 per year depending on the police force area.
Salaries are recommended by the Senior Salaries Review Body, which advises on the remuneration of those in public office, and approved by the home secretary.
In his speech, Mr Leslie also suggested future savings could be made by getting more magistrates and county courts to share buildings, by closer working by neighbouring local authorities and emergency services as well as more "efficient" health commissioning.
Labour leader Ed Miliband has pledged to give more power to parents and patients but ministers say Labour has opposed its shake-up of NHS commissioning and granting of more freedom to state schools since 2010.
A Conservative spokesman said: "This is just the same old Labour. They did two 'zero-based spending reviews' in government but still took us into the financial crisis with the biggest structural deficit in the developed world."
He said the government was "taking the difficult decisions our country needs".
"We have made good progress, saving £10bn from efficiencies in central government last year alone and the record deficit we inherited is down by a third. Labour would put this all at risk with more borrowing, more spending and more taxes."