Ukraine: UK's Hague urges 'spirit of reconciliation'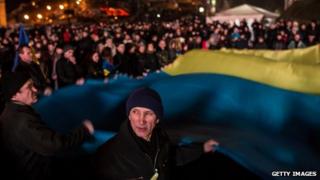 Political stability and a "spirit of reconciliation" are vital for Ukraine after the recent bloodshed, UK Foreign Secretary William Hague has said.
He said ex-president Viktor Yanukovych, ousted by Ukraine's Parliament on Saturday, no longer had authority after clashes which left 80 people dead.
Ukraine "did not face a choice between Russia and the EU", he told MPs.
But he warned that the country faced an economic crisis and may require external financial assistance.
In a statement to the UK Parliament, Mr Hague said Ukraine's financial reserves were "dwindling" and its currency losing value and without outside help its public finances may "not be sustainable".
'Divisive'
He said the International Monetary Fund was ready to step in to provide financial help but there would be conditions attached, with the country's new leaders expected to demonstrate a commitment to political and economic reform.
This included tackling the "pervasive culture of corruption" and the "divisive" politics of the past.
The former speaker of the Ukrainian Parliament has been appointed temporary president ahead of planned elections in May - while an arrest warrant has been issued for Mr Yanukovych after scores of people were killed in recent fighting between government security forces and opposition groups.
While there was a "constitutional dispute" over who was now in power in Ukraine, Mr Hague said it was clear that Mr Yanukovych's authority was no longer "widely recognised".
"He has said he will not step down, but it is clear his authority is no longer widely accepted," Mr Hague said.
Mr Hague said it was up to the people of Ukraine to decide their political future but the international community expected Ukraine's new leaders to uphold the rule of law and human rights as they moved to a more "democratic path".
"The priority now is to achieve an end to violence, a unity government and free elections taking place that are free to all concerned," he told the UK Parliament.
Russia, a long time ally of Mr Yanukovych, has described those who have taken power in Ukraine as "mutineers".
Former Conservative minister Liam Fox said Moscow was responsible for many of Ukraine's current problems and its influence in the region was "counter-productive and anachronistic".
Mr Hague said Ukraine should be able to determine its own future free of "duress" from any other nation, adding that the "age of spheres of influence was over".
But he insisted the European Union and Russia were working closely together to deal with the unfolding situation, adding that both believed Ukraine's territorial integrity must be maintained.