Plea for end to 'discriminatory' titles for wives of lords and knights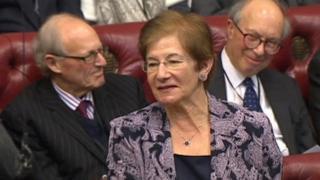 Entitling the wives of knights and lords to be called "lady" is discriminatory, an independent member of the House of Lords has said.
Crossbencher Baroness Deech suggested the husbands of dames and baronesses could also be accorded a title.
"Equality has to start in this House," she said of Parliament's upper chamber.
The government's Lord Wallace of Saltaire recognised that there were "anomalies", but said there were no plans to rectify them.
"While the government recognises the equality issues surrounding the use of courtesy titles," he explained, "we have no plans to alter their use, due to the complexity of the system and the likelihood of confusion arising from alteration to the long-standing custom and practice governing this matter."
'Not urgent'
Baroness Deech replied: "I can assure the noble lord the minister that having looked into the issue, it is not as difficult as he imagines and there could be change.
"The use of the title 'lady' by the wives of knights and noble lords is discriminatory unless a title of some sort is also accorded to the husbands of noble ladies and dames.
"Either the title should only be used by those to whom it was awarded, or husbands, wives and partners have to be treated equally."
Lib Dem Lord Wallace said: "The statement that equality must start in this house is one which would be received with surprise by a number of those outside.
"The use of courtesy titles, and the titles for the spouses of peers - which are apparently legal titles and not courtesy titles - has grown up over the last 500-600 years.
"The rapid changes in the relationship between the sexes and marriage and so on over the last 50 years has of course left us with a number of anomalies of which the government is well aware, but we are not persuaded that it is urgent to adjust them now."
Crossbencher Baroness Howarth told Lord Wallace: "I was rather concerned by your reply that it was too complex. Do you remember that it was too complex to give women the vote at one time?
"The British constitution is extremely complex. If we were to attempt to redesign the British constitution on a rational basis this House would certainly not exist, and whether or not the monarch would exist are equal questions.
"We live with odd elements of tradition which are part of the rich tapestry of this country and they do evolve."
But Lord Wallace insisted: "When we are worried about the weakness of social mobility in Britain I'm not sure that concerning ourselves with the subtle finesse of social stratification is something we should spend too much time on."
He said some of his female colleagues had told him robustly that their husbands "not only do not care but positively do not wish to have" a courtesy title.