Cameron and Salmond: So near yet so far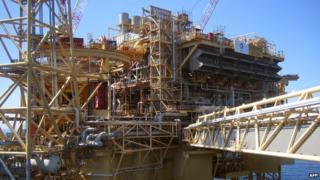 Within just a few miles of each other the PM David Cameron and Scotland's First Minister Alex Salmond will chair meetings of their cabinets - one in Aberdeen, the other just outside it.
Both are unveiling plans which they claim will ensure that North Sea oil and gas continues to pump billions into the economy.
They are responding to a independent report which has warned that dramatically falling revenues from the North Sea will only be reversed if a powerful new regulator is established.
The two men and their ministers will talk about this issue, which is central to this autumn's independence referendum, but they are not scheduled to meet let alone to debate - a fact which will allow Alex Salmond to claim that David Cameron is making a rare excursion to Scotland to lecture and bully.
The prime minister will respond that he has come to talk about the future of North Sea oil and gas, or what nationalists have long called "Scotland's oil".
He will argue today that only if Scotland remains part of a much bigger economy will future investment be secured and public services protected from dramatic drops in tax revenues - equivalent last year to two thirds of the Scottish education budget.
Alex Salmond argues that successive Westminster governments have failed to properly exploit and fairly invest the proceeds from his country's most valuable asset.
Today, though, may be remembered less for what either leader says and more for their journeys to the same part of Scotland to continue their battle over the future of Britain.