Centrica scaremongering over price freeze, says Labour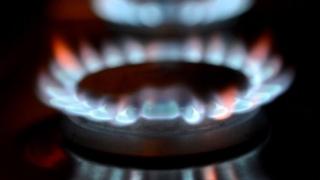 The company that owns British Gas is "scaremongering" over Labour's plans to introduce an energy price freeze, the party has said.
The chairman of Centrica warned last week that a proposed 20-month freeze after the 2015 election would create "uncertainty" and hamper investment.
But shadow energy secretary Caroline Flint told the BBC it would not "contribute to the lights going out".
The public was "not happy" with recent price rises, she added.
Labour leader Ed Miliband has vowed to freeze gas and electricity bills for 20 months if his party wins the 2015 election, saying the "big six" energy firms have been overcharging people.
For the coalition, Energy Secretary Ed Davey has called on the competition authorities to investigate the profit margins of the major suppliers.
'Settle the market'
A review of the market is already being carried out by the Office of Fair Trading, regulator Ofgem and the Competition and Markets Authority.
Centrica chairman Rick Haythornthwaite said last Thursday that "political debate" between the coalition parties and Labour over energy prices was "immensely damaging not just for Centrica but for the nation".
He argued it could hit investment and that, by 2015, "the possibility of the lights going out in Britain will be looming much larger". This was not "the figment of a scaremonger's imagination", he said.
But speaking on BBC One's Andrew Marr Show, Ms Flint said: "I think Centrica is scaremongering on this issue. I don't think the price freeze is going to contribute to the lights going out."
She added: "Do they like the price freeze? No, of course they don't. This is about making sure we can give something back and where the price freeze can settle the market."
Ms Flint said there was "no doubt the public aren't happy" with prices.
On Thursday, British Gas's residential business reported a small drop in profits for 2013 due to warmer weather and higher wholesale energy costs.
Adjusted operating profit for the full year came in at £571m, down 6% on the £606m recorded a year earlier.
Centrica also posted a dip in profits, at £2.7bn, down from £2.74bn.