Clegg hits back at bishops' welfare reform criticism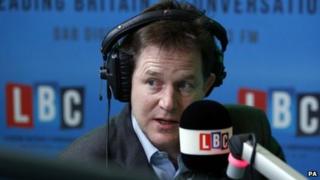 Nick Clegg has defended the coalition's welfare reforms after 27 Church of England bishops said cuts were forcing thousands of people to use food banks.
More than 40 Christian leaders wrote to the Mirror, arguing that changes were "punitive" for the poorest in society.
But the deputy prime minister said the government could not provide benefits with "no strings attached and with no questions asked".
Recent criticism of changes was based on "exaggeration", he told LBC Radio.
Meanwhile, a government-commissioned report says groups providing food aid are "consistently reporting an increase in demand".
'Failures'
Ministers have come under increasing criticism from religious leaders over welfare reforms, including a cap on benefits for working-age people, in recent days.
Archbishop of Westminster Vincent Nichols, the head of the Roman Catholic Church in England and Wales, warned last weekend that people were being left in "destitution" by the removal of a "safety net" and labelled the situation a "disgrace".
In their letter to the Mirror, the Anglican bishops and 16 other other Christian leaders said that many people were "going hungry".
They said: "We must, as a society, face up to the fact that over half of people using food banks have been put in that situation by cutbacks to and failures in the benefit system, whether it be payment delays or punitive sanctions."
They also said that half a million people had visited food banks since last Easter.
But Mr Clegg, speaking on his weekly phone-in show on LBC, hit back, saying the government had to deal with a "massive black hole in our public finances" and there was "nothing fair about simply saying we are not going to deal with our debts, we are going to let our children and our grandchildren do it".
He added: "You inevitably can't duck the fact that some of those savings come from a quarter of total public spending [on welfare].
"I have a huge amount of respect for Vincent Nichols, but I think that to say that the safety net has been removed altogether is an exaggeration. It is not right. We are trying to get the balance right."
Mr Clegg said: "I think most people in this country accept that, of course, you need to have a safety net; of course you need to give help to people that are vulnerable; but for those who have been given support to go out to look for work, there has to be some kind of conditionality.
'Wake-up call'
"You can't just be given benefits, with no strings attached and with no questions asked, when you are being given support to find your way back into work."
For Labour, shadow work and pensions secretary Rachel Reeves said the letter should be a "wake-up call" to David Cameron.
Government policies were making life "harder for families", with a "cost-of-living crisis making workers £1,600 worse off", she added.
The dispute between the coalition and the bishops comes as a report by the Food Ethics Council at the University of Warwick says: "Those providing food aid, formally and informally, are consistently reporting an increase in demand, both in terms of new requests for help and in terms of those who have been helped continuing to ask for food."
The main factors driving the increase in demand were low income, rising food costs and increased indebtedness, the report, commissioned by the Department for Environment, Food and Rural Affairs, added.