Labour 'jobs guarantee' promise limited to a year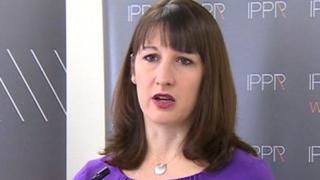 Labour has only committed to fund a policy that it describes as the "centrepiece and foundation stone" of its economic plan for a single year.
The party has vowed to guarantee jobs for the long-term unemployed if it wins the election next year.
Labour recently called this "a backstop for our social security system".
But a House of Commons analysis of the scheme's impact, seen by the BBC, was commissioned on the basis it would run for just a year.
Shadow Work and Pensions Secretary Rachel Reeves confirmed to the BBC that, under Labour's current plans, the funding would only be in place for the first year of a Labour government.
Speaking to Radio 4's World at One, she said: "In the first year it would help 55,000 young people and 170,000 people over the age of 25.
"That's a huge number of people, almost a quarter of a million, who would be benefiting from this policy."
Bonus tax
The "jobs guarantee" would mean anyone over the age of 25 who had received jobseeker's allowance for two years or more and anyone under 25 who had received the allowance for a year or more would get a guaranteed job.
The policy would be funded by repeating the tax on bankers' bonuses, and a restriction on pension tax relief for those on the highest incomes.
Labour will make more announcements on helping the long-term unemployed soon.
But it is not clear whether it will commit to extending the "jobs guarantee" before the general election.
A Labour spokesman said: "For three years Labour has been calling on the government to introduce a compulsory jobs guarantee to get the long-term unemployed off benefits and into work.
"Sadly, the government has failed to adopt Labour's compulsory jobs guarantee and, since David Cameron became prime minister, the number of young people on the dole for over a year has doubled."
Last month, Ms Reeves said that "the centrepiece and foundation stone of Labour's economic plan is a compulsory jobs guarantee for young people and the long-term unemployed".
In the past, shadow chancellor Ed Balls has described how the policy would develop "over time".
Tony Wilson, who as a civil servant ran a similar policy initiative when Labour was in government, said he hoped the party would give serious consideration to a jobs guarantee that lasted for a whole Parliament.
'Short-term gimmick'
Mr Wilson now works for the Inclusion think tank, which advises political parties on employment policy.
Work and Pensions Secretary Iain Duncan Smith said: "Ed Miliband promised all his policies would be 'fully funded'. But now we learn that one of his flagship policies is a short-term gimmick with sums that don't add up.
"That means more spending and more borrowing. Nothing's changed - it's the same old Labour offering no long-term economic plan for the future."