EU migrants must earn £149 a week to claim benefits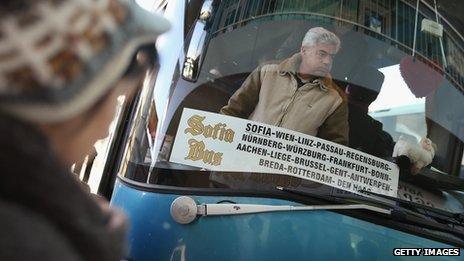 European migrants coming to the UK will have to show they are earning at least £149 a week for three months before they can access a range of benefits.
The minimum earnings threshold, first announced last year by David Cameron, will come into force on 1 March.
It is the latest in a series of measures to restrict access to benefits for migrants from other EU countries.
Welfare Minister Esther McVey said the measure would help "protect the integrity" of the benefits system.
The announcement comes as the prime minister has rejected claims by Archbishop of Westminster Vincent Nichols that its wider welfare reforms are leaving people in "destitution".
Ministers argue that the longstanding principle that citizens of EU countries should be allowed to live and work in other member states does not amount to an automatic right to claim benefits abroad.
They say it has become too easy for migrants from the other 27 EU member states to access public services in the UK, such as the welfare state and the health service.
The prime minister announced the plan for an earnings threshold at the end of last year, as he came under pressure from Conservative MPs to act before the lifting of work restrictions on Bulgarians and Romanians on 1 January.
At the moment, EU law defines a "worker" as someone whose employment is "genuine and effective".
Ministers think this definition is too loose, and they will apply a threshold of £149 a week - the level at which national insurance starts being paid - above which people will be eligible to get jobseeker's allowance, child tax credits, child benefits and a number of other benefits.
Any European migrant who declares an income below the threshold, which will rise to £153 a week in 2014-15, will face further assessment of whether they are in the UK to undertake "genuine" work.
If they do not pass this test, they will have to wait three months before becoming eligible for jobseeker's allowance.
Welfare Minister Esther McVey told the BBC that EU nationals were entitled to certain in-work benefits under existing laws but that the current arrangements were "vague" and needed to be clearly defined.
"These are not measures about saving money," she told Radio 5Live. "This is about protecting the integrity of our benefits system and having clarity about the benefits system."
The BBC News Channel's chief political correspondent Norman Smith said the government was seeking to send a strong signal to those planning to come to the UK in the future that they cannot expect to claim benefits easily.
But the evidence, he added, suggested this was not a huge problem at the moment. EU figures suggest only 2% of people currently claiming jobseeker's allowance were EU migrants.
The move comes in the run-up to May's elections to the European Parliament, in which the issue of immigration is expected to be central and the UK Independence Party is hoping to make gains at the expense of the Conservatives and other parties.
UKIP has warned of a massive "influx" of incomers from Bulgaria and Romania and called for new migrants not to be able to access benefits until they have been resident for five years.
No official figures have yet been published for the number of Bulgarians and Romanians who have come to the UK since work restrictions were lifted at the start of the year.
But Mr Cameron has suggested that the number of arrivals so far has been "reasonable" and he has rejected calls for restrictions to be extended for another five years - arguing this is not possible under EU law.