Peers 'need tougher lobbying rules'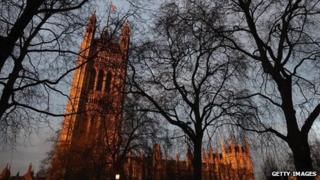 Peers should turn down "all but the most insignificant or incidental" hospitality or gifts from lobbyists, a parliamentary committee recommends.
Under guidelines drawn up after several scandals, they are being urged to avoid "suspicion of improper influence".
And all gifts worth more than £140 - less than a third of the current £500 threshold - must be declared, the Lords Privileges and Conduct Committee says.
Peers must back the changes if they are to become House of Lords rules.
Lobbying of elected politicians by individuals, businesses and organisations keen to change the law is regarded as a legitimate part of democracy.
But in recent years several MPs and peers have been accused of abusing their position.
'Personal honour'
In December the House of Lords suspended Labour's Lord Mackenzie of Framwellgate for six months and Ulster Unionist Lord Laird for four months.
The decision followed an investigation by the Sunday Times, which recorded the peers discussing the creation of an all-party group on solar energy with reporters posing as consultants acting for a South Korean solar energy firm.
In a separate investigation by the BBC Panorama programme and the Sunday Telegraph, Lord Laird was covertly filmed discussing prospects for setting up an all-party group on Fiji.
Both men were found to have demonstrated a "clear willingness" to negotiate agreements which involved providing parliamentary services in return for payment and to have breached their duty "to act always on their personal honour".
The committee's report says that, while it is existing practice to punish peers who have shown clear willingness to break the rules - even if no money has changed hands - this has not yet been written into their code of conduct.
It should be explicitly banned to provide more guidance on how to behave, it adds.
The committee also says "some lobbying can give rise to a suspicion of improper influence over Parliament", adding: "Members must have regard to such public perceptions. Members' dealings with lobbyists should always be governed by the principles of integrity and openness.
"Members should take particular care not to give the impression of giving greater weight to representations because they can give rise to a suspicion of improper influence over Parliament. Members must have regard to such public perceptions."
The proposed changes would also clarify the ban on peers lobbying fellow parliamentarians, ministers or government officials in return for payment or other reward.
Both Houses of Parliament have already approved the government's Transparency of Lobbying, Non-Party Campaigning and Trade Union Administration Bill, which will cut the amount of money organisations other than political parties can spend on campaigning during election periods.
Charities and trades unions have warned that this will hinder their work unfairly, but ministers insist it will help clean up politics.