Cuts crisis forces radical new thinking for councils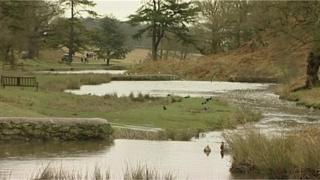 Filming for Sunday Politics gave me the opportunity to head to the very top of the East Midlands. I was climbing Beacon Hill near Loughborough in Leicestershire.
It's from here you get a great view of the counties that make up the East Midlands. Politically, it's also a good vantage point to get a bigger picture of how the local government make-up of our counties could change.
The pace for a radical rethink is being set by the scale of year-on-year budget cuts facing our councils.
Single authority plan
One proposal up for grabs comes from Leicestershire: scrap all of its seven district councils and merge them with the county council.
According to a report by the auditors Ernst and Young, it would generate annual savings of £31m and cut council tax by 3%. Also, the total number of councillors would be cut from 316 to about 100.
The shake-up would involve some costs - creating a new single authority, a unitary council, would have a £13m price tag.
The report was commissioned by the Conservative-run Leicestershire County Council, which itself is having to find budget cuts of £110m over the next few years.
"If you believe the chancellor, the savings required of us are only going to get greater over the next five to 10 years," Councillor Nick Rushton, the leader of Leicestershire County Council, told me.
"So the time has come for a sensible debate about local government. Full stop."
'Silo mentality'
His predecessor David Parsons takes a different view. He's a former chairman of East Midlands Councils, the pressure group that lobbies for the region's local government.
"The last thing we need is another dose of local government reorganisation because it won't save any money in the long term," he told me.
The former Tory-turned-UKIP convert points to Bradgate Park, between Loughborough and Leicester. It's a popular venue for winter walkers with their dogs, and families.
This park is not run and funded by a council, but by an independent charitable trust. The board of trustees has representatives from the county and city councils and the National Trust.
"I think people should look at Bradgate Park to see how council-owned places can be run," he added.
And echoing David Miliband's call to rethink how council services are delivered, Mr Parsons said: " We've got to put the person at the centre of our public services and scrap the silo mentality that exists in too many local and national government organisations and agencies."
Sharing services
Maybe there's a hint of the future shape of local council services in the Leicestershire town of Hinckley. There's no longer a town hall or council HQ; it's simply called the Hinckley Hub.
In a smart new office, the Lib Dem-controlled borough council shares its space with Job Centre Plus and county council services.
"We are already saving about £200,000 a year," said Councillor Stuart Bray, the leader of Hinckley and Bosworth Council.
"We are also sharing services on economic regeneration across the border with colleagues in Warwickshire.
"It's the way forward. We've got the tenth lowest council tax in England and we've saved front-line services. Certainly going for unitary status is not an option for us."
If local politicians and council leaders struggle in redrawing the map of local government, I suggest they go to the top of Beacon Hill.
Even on the cloudiest of days, it's an idea place for some "blue-sky thinking".
Hear from the county council leaders of Nottinghamshire, Derbyshire and Leicestershire in a special edition of Sunday Politics for the East Midlands, on Sunday 16 February, on BBC One from 11:00 GMT.
Also catch up on the BBC iplayer.