Caroline Spelman joins calls for all-women Tory shortlists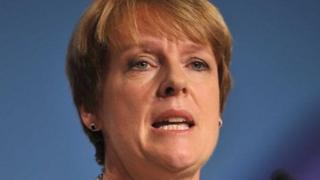 Calls are growing in the Conservative Party for it to consider all-women shortlists to select candidates to fight the next general election.
The party has always resisted such a move, saying candidates should be selected solely on merit.
But there are concerns leader David Cameron's efforts to get more Tory women into the Commons have stalled.
Former party chairman Caroline Spelman told BBC Radio 4's PM programme all-women shortlists should be considered.
She said it was not necessarily the best solution but "it is one of the measures on a spectrum of positive discrimination" that might address the problem.
"You shouldn't rule it out," she told presenter Carolynn Quinn.
"Personally I'm not opposed to the all-women shortlist.
"But, learning the lessons from Labour colleagues. the trouble with a woman-only shortlist, it can for the chosen candidate end up being a handicap because people use their objection to that as a reason not to then fully support their candidature and you don't want to create that hostage to fortune."
She said the party should reinstate its 50-50 policy - which guaranteed a male-female split among would-be MPs facing selection by local Conservative associations.
Anger
"I think it would be good to use that systematically. It's quite common practice in the wider world in business," she said.
On Wednesday, Conservative peer Baroness Jenkin of Kennington said the party needed to consider "all the options" and could not be seen to be ignoring "50% of the talent" when selecting would-be MPs.
In an article for the London Evening Standard newspaper, the peer, who founded Women2Win, a campaign to get more Tory women into public life, acknowledged the idea was likely to spark anger in local Conservative associations.
But she added: "If the number of women MPs ends up retreating at the next election… we need to be considering all the options.
"That includes all-women shortlists, but also other things like postal ballots and primaries."
Home Secretary Theresa May, who pioneered the recruitment of Tory women to winnable seats from 2002 with the "A list" of favoured candidates, has said local associations are free to have all-women shortlists if they want them.
But, speaking to Total Politics magazine in 2012, she said the Conservatives would never embrace them in the way the Labour Party had "for the simple reason that we've had significant success in the changes we made anyway".
As chairman of the Conservative Party from 2002-03, she was credited with early work on recruiting more Tory women to winnable seats. And although the internal politics of Iain Duncan Smith's leadership took up a lot of her energy, she also found time to design the "A-list".