Most firms back EU trade rules, government report suggests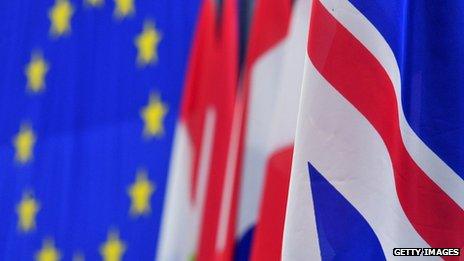 Most businesses feel European Union rules ensuring the freedom to trade goods with other members are "beneficial to the national interest", a government report suggests.
But there were "concerns" about the way the organisation exercises its powers and the cost of membership, it added.
The business department's report was one of eight about the EU published on Thursday across government.
One pro-EU reform group said its findings were "failing" UK business.
David Cameron ordered the reports as part of a review of the UK's relationship with Brussels.
They are intended to inform a "renegotiation" of powers, which the Conservatives promise would take place ahead of an in-out referendum on EU membership if the party wins the next general election.
The so-called "balance of competences" reviews involved gauging opinion from businesses, academics and organisations.
One published by the Department for Business and Skills states: "The majority of respondents to this review, including most respondents from business organisations and individual firms, supported the current balance of competence on the free movement of goods and felt that, on balance, EU action was beneficial to the UK's national interest.
"They felt that the advantages of European action - for example, a level playing field for UK businesses and a single transparent set of rules with scope for legal redress - outweighed the costs arising from administrative burdens, regulatory costs or policy trade-offs."
But "dissenting" firms said the EU's importance to trade was "diminishing" and others argued that the free movement of goods was "outweighed by the costs of EU membership".
Alan Halsall, co-chairman of the Business for Britain group, which is campaigning for reform of the UK's links with Europe, said many of the claims in the report would be "a big surprise to business people across the UK struggling with the demands of excessive EU regulation".
He added: "The balance of competences reports are failing British businesses. It is simply not credible to try and claim that Britain's business community is content with the current status quo."
Glenis Willmott, Labour's leader in the European Parliament, said: "At a time of economic uncertainty, these reports highlight just how important European Union membership is to jobs and growth, showing the positive impact of the EU on the free movement of goods, trade and investment, research and development, tourism, and civil justice."
One of the reports expected on Thursday - on the controversial issue of the right to free movement of people within the EU - has been delayed after a row between Liberal Democrat members of the coalition and Home Secretary Theresa May over the evidence behind her calls for tighter controls on migration.