Cameron tells councils not to charge for sandbags,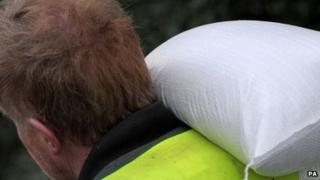 David Cameron has told councils in flood-hit areas not to charge for sandbags, after two authorities confirmed they were doing so.
But Christchurch Borough Council in Dorset and Torbay Council in Devon said those residents not deemed in danger of flooding were being asked to pay.
Christchurch Borough Council said there was not an "unlimited supply".
But the prime minister urged against charging, saying central government would pick up the bill for any costs.
Christchurch Borough Council said it had sold 29 "flood packs" - which include four standard and one draught-excluder-style sandbags - since Christmas. The £30 price only covered the cost and there was no profit, a spokesman said.
'Immediate risk'
He also said the council could not provide "an unlimited supply of sandbags to properties which have not been identified as at risk of imminent flooding".
Torbay Council said it had a supply of 1,000 sandbags at all times for emergencies, which were provided free to those "subject to immediate risk".
However, other residents who wanted sandbags had to purchase them, either through the council's contractor or from DIY stores.
Communities Secretary Eric Pickles has issued a statement to Parliament, stating that councils should not charge.
And, speaking to BBC Radio Devon's Bill Buckley, Prime Minister David Cameron said: "I've said to local councils - including Cornwall and Devon County Council and your district councils - we will reimburse 100% of the money you spend.
"So if there are sandbags needed, if the military is needed, if you need emergency service responses - all of those things will be paid for and it's very important people understand that."
He also tweeted: "I've told local councils they should not charge for sandbags in flood-hit areas - central government will pick up the cost."
'Chaos'
Local Government Minister Brandon Lewis said: "There is absolutely no reason for any councils to be charging residents for sandbags."
He added: "We have spoken to every local authority in the country and are confident that there are more than enough supplies to meet local needs, with volunteers and military support on the ground to make them ready."
The government says it is able to supply up to 10,000 sandbags a day to councils.
But Labour leader Ed Miliband said: "Families shouldn't have to pay for sandbags but the government seems in utter chaos and confusion about this issue."
He added: "For families who are facing the distress of flooding, who are worried about whether they are going to be driven out of their homes, to be charged for the sandbags is an insult."
Downing Street said it was unlikely the cost of flood damage would be such that the government could apply for EU funding to help cover costs.