Ed Davey attacks Tories on climate change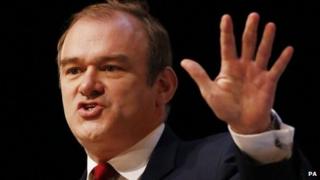 Government efforts to combat climate change are being undermined by some Conservatives, Liberal Democrat cabinet minister Ed Davey is to claim.
The energy secretary will say attempts to discredit the scientific evidence of climate change threaten a breakdown of the political consensus on the issue.
He will say some Tories are combining with the UK Independence Party to create a "diabolical cocktail".
But David Cameron says he is committed to reducing carbon emissions.
In a speech to the Institute for Public Policy Research think-tank, Mr Davey will accuse critics of government policy of a "wilfully ignorant, head in the sand, nimby-ist conservatism".
He will say that such attitudes combined with the Euroscepticism of some Conservatives could undermine efforts to achieve international agreement.
'Undermining trust'
Mr Davey will say: "I fear that on climate change and energy policy, political consensus is in danger of breaking down.
"From the right, fringes of the Conservative Party and UKIP are parroting the arguments of the most discredited climate change deniers, seizing on any anomaly in the climate data to attempt to discredit the whole.
"This is undermining public trust in the scientific evidence for climate change, overwhelming though it is. This type of climate change-denying, conservatism is wilfully ignorant, head-in-the-sand, nimby-ist conservatism.
"And when married to the Europhobia innate to parts of the Conservative party, you have a diabolical cocktail that threatens the whole long-term structure of UK climate change and energy policy.
"If you accept the logic of climate change, you have to accept the logic of European co-operation to tackle it. Because we can only remain competitive, be energy secure, and tackle emissions by acting together with our major trading bloc - our neighbours - our partners."
'Clean power target'
Mr Davey will argue that Labour's plan for an "artificial" 20-month freeze in energy prices would also damage efforts to reduce carbon emissions.
"It will in fact threaten investment in energy security, push up prices for consumers in the long run, destroy competition by solidifying the power of the Big Six'(energy companies) and do nothing at all to reduce emissions," he will say.
"Indeed if it threatens investment in low-carbon generation, it could represent a step back for the climate."
Speaking at Prime Minister's Questions last month, Mr Cameron said he was committed to reducing carbon emissions and meeting international targets.
He said: "We worked with the last government to put the Carbon Act into place. It wouldn't have happened without our support."
Campaign group Friends of the Earth accused Mr Cameron and his Conservative cabinet colleagues of undermining "essential political action" on climate change but said Mr Davey's party was also to blame.
The group's climate campaigner Donna Hume said: "The Lib Dems have played their part in blocking climate action too, by voting against a clean power target, backing shale, and undermining efforts for a new EU renewable energy target.
"With thousands of households struggling to cope in storm-battered Britain, it's time to put tackling climate change at the heart of policy-making."