Cut aid money for all but the poorest countries, say MPs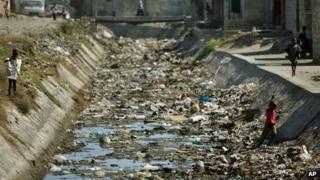 The UK government should provide loans rather than grants to all but the poorest countries, MPs have suggested.
The Commons International Development Committee said so-called "lower-middle-income" nations should be given "returnable capital wherever feasible".
But failed states, warzones and countries suffering health emergencies should still get payments without a promise to return them, it added.
The government said this was a "clear endorsement" of its current policy.
Despite cuts in most areas, the Conservative-Liberal Democrat coalition has ringfenced spending on overseas aid. It pledged in 2010 that this should reach the equivalent of 0.7% of the UK's gross national income by the end of 2013. The figures are due out in March.
But critics have complained that, during austere times, much of the money is being misdirected.
'Overwhelming drive'
Some have demanded that the Department for International Development's (DfID) budget should be cut, while others have called for a greater focus on helping those in need around the world, rather than countries with large and rapidly growing economies.
The government has already stopped aid to China and is committed to ending it for India.
In its report, the committee said the overall 0.7% spending target must remain, but called for a stronger emphasis on giving aid only to the poorest
Over the next 10 years, it argued, the government must look at setting up a UK international development bank, offering loans - rather than non-repayable grants - to more stable and improving countries.
The committee's chairman, Liberal Democrat MP Sir Malcolm Bruce, said: "We believe the overwhelming drive in UK aid should continue to focus on lifting people out of poverty and meeting post-2015 development objectives.
"The UK should continue to fund the development and delivery of key services to the very poorest people in low-income countries through a system of grants."
He added: "But, to support structural transformation in lower-middle-income countries, we suggest that a significant proportion of future UK development finance should also be delivered via a system of concessional loans and other financial instruments."
Grants should help provide sanitation and education "only where no other form of finance is possible", the committee said, while it was important "not to re-burden lower-income countries with unmanageable debt".
'Totally new'
Loans could help with infrastructure projects - such as roads and telecommunications - in developing countries, as these would bring economic growth and allow governments to collect more taxes and repay loans.
This should be well under way by 2030, the committee said.
A DfID spokesman said: "This report is a welcome contribution to our thinking on support for economic growth in developing countries.
"The international development committee has given a clear endorsement of our approach to tackling poverty and the government's commitment to spend 0.7% of income on aid.
"We are already using returnable loans and equity to help create jobs in developing countries. This is a totally new way of using our development budget because, unlike traditional aid grants, we expect our investment to be returned, so we can reinvest it."
The spokesman added: "Economic development is now a core priority right across the department, as creating jobs and growth is absolutely the only way of ending poverty.
"We are looking at a wide range of new ways to boost economic development and work with the private sector."