Ed Miliband: Climate change will bring more flooding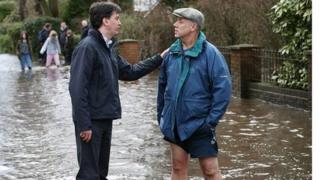 Climate change will bring "more extreme weather events" like those causing widespread flooding in England, Labour leader Ed Miliband has warned.
Although it was wrong to "attribute any one event to climate change", he urged the government to invest more in flood defences as there would be "more flooding, more storms" in future.
Not to do so was a "totally false economy", he argued.
Meanwhile, PM David Cameron has vowed to do all he can to help flood victims.
Speaking on a visit to Purley on Thames in Berkshire, Mr Miliband said: "Local people have incredible knowledge about what needs to be done, and the help that needs to be provided, and they should be listened to.
"It's clear that flood defence needs to be more of a priority for government.
"If there's one thing we know about the effects of extreme weather, it is that the costs, financial, human and other costs, of not acting are much greater than the costs of acting, and it is a totally false economy to say, 'Don't act'.
"The government's got to realise this; it's got to take the problem seriously."
The prime minister is expected to chair another Cobra emergency committee meeting later in London, and has announced that he will hold a press conference in Downing Street at 16:45 GMT.
During a visit to Dawlish in Devon, which lost its rail link in last week's storms, Mr Cameron said: "We are in for the long haul but the government will do everything it can to co-ordinate the nation's resources."
There are currently 16 severe flood warnings in place across the South East and South West of England - with the likelihood of further rain in the coming days.
"It is a huge challenge and we have had the wettest start to a year for 250 years, some of the most extreme weather we have seen in our country in decades," Mr Cameron added.
"We have to recognise it is going to take time before we get things back to normal.
"If money needs to be spent, it will be spent; if resources are required we will provide them; if the military can help, they will be there.
"We must do everything but it will take time to put these things right."
A cabinet meeting scheduled for Tuesday has been moved to later in the week as ministers seek to turn their focus squarely onto the relief effort after reports of cabinet in-fighting over the performance of the Environment Agency.
Speaking in the Berkshire village of Wraysbury, Defence Secretary Philip Hammond said politicians would be doing a "great disservice" if they did anything other than focus on helping those at risk.
"I don't want to spend the time now in the middle of this crisis recriminating and finger-pointing," he said.
"At the moment the priority is to get help to people in areas directly affected and prevent more flood damage being caused."
Mr Hammond, whose Runnymede constituency has been badly hit, said some constituents had expressed concerns that there were too many public agencies operating on the ground, potentially causing confusion.
He said he was pleased that a single point of contact for the emergency authorities had now been established and that police were on hand to reassure people worried about looting should they want to leave their homes.
But Conservative MP for Windsor, Adam Afriyie, said people wanted a more "visible" presence from the armed forces and the police on the streets.
"I do understand how they feel because when you've got hundreds of homes being evacuated and water literally flooding down the streets in a current, it's quite clear that you're going to be wanting as much help as you can get."
Nigel Farage, the UKIP leader, who has called for a public inquiry into river management, is visiting Chertsey, Surrey.
Friends of the Earth's Guy Shrubsole said: "Government advisers warn that spending is almost £500m below what's needed to keep flood risk at current levels - putting a quarter of a million more homes at risk.
"If we want to keep the nation's head above water we must take global warming more seriously."