Lord Rennard launches legal action against Lib Dems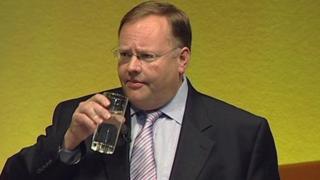 Lib Dem peer Lord Rennard has written to his party giving it until Thursday to lift his suspension or face action at the High Court, the BBC understands.
If it fails to do so Lord Rennard is threatening to seek costs from those involved in his suspension, including party president Tim Farron.
The former Lib Dem chief executive was suspended after four female activists accused him of sexual harassment.
He denied the claims, but was asked to apologise by an internal investigation.
The investigation, led by senior barrister Alistair Webster QC, concluded the claims against Lord Rennard were credible but could not be proven beyond reasonable doubt, and the peer rejected its demand for an apology.
As a result, Lord Rennard faced accusations of bringing the party into disrepute, and has been suspended pending a fresh investigation into the disrepute claims.
The peer is thought to be seeking an injunction to overturn his suspension on the grounds that it is unlawful and flouts the party's own rules and constitution.
The letter before action served on party HQ is understood to name individuals involved in the suspension decision, including the chairman of the Lib Dem regional parties committee, Mike Wheatley, and chairman of the English Council of Lib Dems Peter Ellis - in addition to Mr Farron.
A source accused senior Lib Dems of driving "a coach and horses through their own rules to placate the party and to get rid of Chris Rennard".