Harper would not have broken new rules - Eric Pickles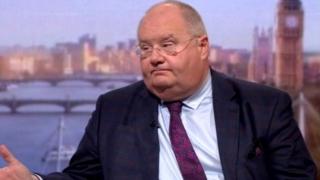 Mark Harper would not have fallen foul of his own tough new rules on immigration checks, Eric Pickles says.
Mr Harper resigned as immigration minister after he discovered his cleaner did not have permission to work in the UK.
Mr Pickles told the BBC's Andrew Marr show Mr Harper had done the "honourable" thing by resigning.
But he added: "Had he been a member of the public then I don't think he would have done anything wrong."
Mr Harper was piloting legislation through Parliament that will double the fines for employers who fail to undertake the correct right-to-work checks to £20,000.
It will also force banks, private landlords and some NHS workers to check the immigration status of overseas individuals - something critics claim will make the new legislation unworkable.
Labour said Mr Harper's case should prompt a rethink of the new rules.
Liberal Democrat MP Tessa Munt, a House of Commons aide to Business Secretary Vince Cable, said: "I do wonder... if he can't work out the system, how on earth anybody else is meant to."
'Terrifically strong'
But Mr Pickles insisted that the new rules were "light touch" and would not prove impossible to implement.
He told Andrew Marr: "I was really sad to see Mark go, I think he was a terrifically strong minister and had he been a member of the public then I don't think he would have done anything wrong.
"But he has set himself a very high standard and he failed that standard and, therefore, honourably stood down."
He added: "The new legislation is reasonably light touch. If this had been a member of the public they would have done nothing wrong."
Under the current rules, employers have to check whether passports or other identity documents have not expired, that the photo looks like the employee and the date of birth seems accurate, and that the workers' visa covers their type of employment.
The penalty for not carrying out the checks is £10,000.
'Obvious forgery'
Under the new rules, due to come into force in "early 2014", the penalty for not carrying out checks will double to £20,000 and the checking process will be "simplified", with the number of acceptable identity documents reduced and a helpline for employers to double check the status of their employees.
In his resignation statement, Mr Harper said he had been "mindful of my legal and financial obligations" when he took on the cleaner, who he said was self-employed, and sought verification of her immigration status despite having no legal requirement to do so.
Commenting on the new rules for landlords and employees, he said: "We do not require them to be experts or spot anything other than an obvious forgery".
According to press reports, immigration officials investigating the case are looking at the possibility that Mr Harper's cleaner was using forged documents.
In his resignation statement, Mr Harper said: "Although I complied with the law at all times, I consider that as immigration minister, who is taking legislation through Parliament which will toughen up our immigration laws, I should hold myself to a higher standard than expected of others."
'Reasonable checks'
He explained he had made checks when he first employed the cleaner at his London flat in April 2007, taking a copy of her passport and a Home Office letter which stated she had the right to work in the UK.
Mr Harper said he considered the issue again when appointed a minister in the Cabinet Office in May 2010 and immigration minister in September 2012 but concluded "no further check was necessary".
A year later, he said, he talked a lot about employers and landlords carrying out "reasonable checks" on workers.
Given this focus, he said, he thought it "prudent to check that all my documents were in order for my cleaner".
Last month, after being unable to locate the documents, he asked his cleaner for further copies but when his private office checked the details with immigration officials, it was found she did not have indefinite leave to stay in the UK.
He was told this on Thursday and said in his letter that he immediately told Home Secretary Theresa May.
The matter was now with immigration enforcement, he added.
Labour's shadow immigration minister David Hanson said he "respected" Mr Harper's decision to stand down and the minister had "shown himself to be a decent man".
But he added: "It is clear there are limits to the effectiveness of relying on employer and landlord checks to address illegal immigration."
UKIP leader Nigel Farage said Mr Harper had been left with "no choice" but to quit.
"After all, he was the guy behind what I thought were those rather unpleasant vans driving around London saying 'if you're an illegal the time has come to go home'," he said.
Junior Home Office minister James Brokenshire, MP for Old Bexley and Sidcup, has been appointed as Mr Harper's replacement as immigration minister.