'Plebgate' PC Keith Wallis jailed for a year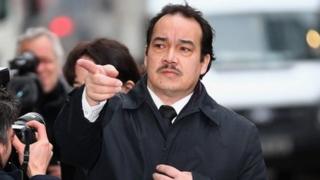 A Metropolitan Police officer who lied about witnessing the "plebgate" row has been sentenced to 12 months in prison.
PC Keith Wallis, 53, admitted a charge of misconduct in public office last month at the Old Bailey.
Wallis, of West Drayton, sent a senior Tory official an email wrongly claiming he had seen a row involving MP Andrew Mitchell in Downing Street.
The incident involved another officer who refused to allow the then chief whip to cycle through the main gate.
Deborah Glass, head of the Independent Police Complaints Commission, said Wallis's actions had helped turn "a largely inaudible altercation lasting less than a minute into a national scandal".
They had caused an "injustice" to Mr Mitchell and "brought shame upon the police service", she added.
And Metropolitan Police Commissioner Sir Bernard Hogan-Howe said Wallis would be the subject of a misconduct process "as soon as possible", adding that his actions had "fallen way below the standards that me, my fellow police officers and the public demand".
'Betrayal'
Mr Mitchell, MP for Sutton Coldfield, was forced to quit as the government's chief whip as a result of the fallout of the Downing Street row. He has admitted swearing during the original incident but has always denied the allegation by the officer present, PC Toby Rowland, that he used the word "pleb".
After media reports of the incident in Downing Street, in September 2012, Wallis sent an email to John Randall, then Mr Mitchell's deputy in the whips' office, claiming to be a member of the public who had witnessed the argument and heard Mr Mitchell use the word "pleb".
He said he had been sightseeing near Downing Street with his nephew, when he was, in fact, off duty at the time and thought to have been nowhere near Downing Street.
Passing sentence, Mr Justice Sweeney said Wallis had been guilty of "sustained, and in significant measure, devious misconduct which fell far below the standards expected of a police officer".
He added: "Indeed it was a betrayal of those standards, and was misconduct which, as well as having had an impact on Mr Mitchell himself, has had a significant impact on public trust and confidence in the integrity of police officers."
'Out of hand'
Mr Justice Sweeney also said: "Passing sentence on you I am in no position to decide precisely what happened between the officers and Mr Mitchell in Downing Street, nor do I need to do so.
"But it is absolutely clear what did not happen. You were not an independent member of the public. You were not present, neither was your nephew, and neither of you witnessed the incident."
Last month, the Old Bailey heard how Wallis, who is a member of the Metropolitan Police diplomatic protection group, had admitted his offence in a police interview and offered to resign.
Mr Mitchell welcomed the guilty plea and there were calls for the prime minister to bring him back into government.
Ahead of sentencing at the Old Bailey on Thursday, Wallis's lawyer, Patrick Gibbs QC, appealed for his client not to be sent to prison.
He said Wallis, who had served for 30 years in the police, had suffered from both mental and physical illness and had been deeply affected by the death of his father, also a police officer.
He added that Wallis had been drunk when he sent the email and that events had got "completely out of hand" afterwards.
He had come to convince himself that he had actually witnessed the false incident he had reported, Mr Gibbs said.
He told the court: "While it is impossible to pinpoint the moment Mr Wallis came to believe that video in his head, he did genuinely come to believe it."
Conservative MP David Davis, a friend of Mr Mitchell, told Channel 4 News: "You can pick your own words, whether it's collusion or conspiracy, but clearly something went on which, if it wasn't planned, it was certainly coordinated."
He added: "I do think that government, the prime minister, should act to bring him back, I do think that should happen."