MP Owen Paterson to have urgent operation on detached retina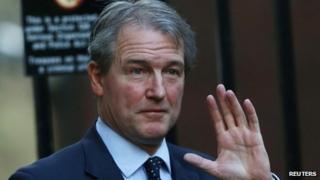 Environment Secretary Owen Paterson - whose response to the flooding crisis has been criticised - is to have urgent surgery for a detached retina.
BBC News understands Mr Paterson was told he risked losing his sight if immediate action was not taken.
He had been due to chair a meeting of the government's Cobra emergency committee on Thursday, and make a statement to MPs.
Communities Secretary Eric Pickles will stand in for him.
Aides to Mr Paterson said he received the diagnosis on Wednesday evening, although he first began suffering problems with his eyesight last week.
It is understood the environment secretary is expected back at work within a week.
He was the target of residents' anger when he visited the flood-hit Somerset Levels.
A meeting of the Cobra committee on Wednesday was chaired by David Cameron.
'Take charge'
Afterwards, the prime minister promised there would be "no restrictions" on the help offered to those whose homes had been flooded.
It was the first time the prime minister had chaired a Cobra meeting on the weather this year.
The BBC's political editor Nick Robinson said it was a sign that Mr Cameron wanted to take charge of the situation amid growing criticism that his government has been slow to respond.
At Wednesday's meeting, ministers also discussed the state of the rail network in the West Country after a stretch of the line between Exeter and Plymouth near Dawlish was washed away.
It has been suggested that the vital rail link between Devon and Cornwall could take six weeks to repair.
Earlier at Prime Minister's Questions, Mr Cameron praised Mr Paterson and said ministers would take whatever action was needed, including dredging rivers, to alleviate the situation.
He also announced £100m in new funding for repairing and maintaining flood defences.