Jacqui Smith rules out Commons comeback in 2015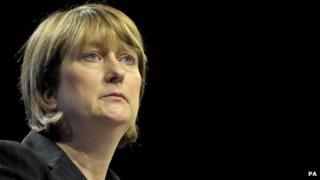 Former home secretary Jacqui Smith has said she has no desire to return to Parliament after the "torrid time" she went through over her expenses.
She told Total Politics said she had "recovered well" from her 2010 election defeat but still bore the scars of the criticism she got as a Labour minister.
Her expenses claims included adult films bought by her husband and an 88p bath plug.
She said MPs in the eye of a media storm "don't stand a chance".
Ms Smith resigned from the Cabinet in June 2009, three months after the Daily Telegraph revealed details of her parliamentary expenses and those of other MPs.
She was criticised for listing her sister's London house as her main home and admitted that claims for two adult films watched by her husband were embarrassing and wrong.
'Licking of wounds'
She went on to lose her Redditch seat in the 2010 general election although she insists that she was far from the "worst sinner" in the expenses scandal.
In a interview for the magazine, Ms Smith said she was still actively involved in politics but was not thinking of making a Westminster comeback in 2015.
"I think everyone knows I went through a pretty torrid period through the end of my time in Parliament, so after I lost my seat there was a certain amount of licking of wounds.
"Even though I knew I was going to lose it, it's not a nice place to be. Being on the BBC website with the headline 'Biggest Loser' above a picture of you is not easy to take. My kids thought it was hilarious.
"I'm well recovered now. People ask 'Do you want to go back into politics?' Well, I've never left politics. Do I want to go back into parliament? No."
Friends
Although acknowledging some of her difficulties were self-inflicted, Ms Smith said some of the coverage about her expenses was "unfair" and she felt for other ministers, such as former chief whip Andrew Mitchell, who have had to defend themselves against allegations about their conduct.
"I know what it's like. I wouldn't want anybody to have to go through that."
Asked about the relentless media scrutiny that politicians are sometimes put under, she added. "You don't get a chance; nobody's really interested in the finer points of it.
"So that was very tough. It changes your view of yourself and of people around you. Not to be clichéd about it, [but] it tells you who your friends are and aren't."