Cameron concerned over Syrian chemical weapons destruction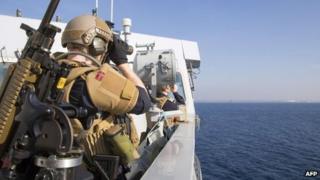 Efforts to destroy Syria's chemical weapons are slowing and information is being withheld from those overseeing it, David Cameron has said.
The prime minister said the UK would continue to apply pressure "on all parties" to make sure Syria's chemical weapons stocks were eliminated.
A deadline of 30 June was set last year following an agreement with the Syrian government brokered by Russia.
The UN body tasked with overseeing the process has called for more haste.
In a telephone call with Russian president Vladimir Putin on Monday, Mr Cameron stressed the need to "continue promptly with the process of destroying Syria's chemical weapons".
'Promising start'
The prime minister was asked in Parliament by senior Liberal Democrat MP Sir Menzies Campbell why the process had "fallen so badly behind".
Mr Cameron replied: "I agree with you. After what was a very promising start with chemicals not only being discovered and removed but also destroyed, there do seem to be now indications that the programme is slowing and that not all the information necessary is forthcoming.
"I discussed this issue in a telephone call with President Putin some 48 hours ago. Britain will continue to put pressure on all parties to make sure the chemical weapons are produced and destroyed."
The Syrian government agreed to the destruction of its chemical weapons and to sign the Chemical Weapons Convention (CWC) in September after coming under diplomatic pressure from Russia, a key ally of President Bashar al-Assad.
It followed threats of military action by the US in response to alleged chemical weapons attacks by the regime.
The UN has said Syria must destroy its entire stockpile by the end of June and the most dangerous poison gas and nerve agents must be removed from the country by the end of March.
The first consignment of chemical weapons materials left the country last month.
The Organisation for the Prohibition of Chemical Weapons, which is responsible for removing the arsenal, said the process has been slowed down by security concerns amid the continuing three year military conflict in the country.
Its director-general Ahmet Üzümcü said recently that there was an urgent need to "pick up the pace".