Councils recoup most of deposits lost in Icelandic banks crash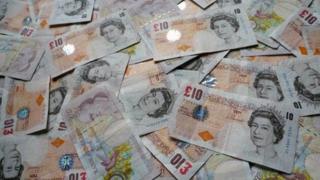 The "lion's share" of the £1.05bn lost by councils when Iceland's major banks collapsed will be recouped, it has been announced.
The Local Government Association (LGA) said more than 95p per £1 lost in 2008 would be returned.
This follows the sale of ongoing claims against Landsbanki by councils to large investor institutions.
LGA chairman Sir Merrick Cockell said "tenacious efforts" by councils had paid off.
Councils lost £1.05bn in savings in 2008 when Landsbanki, Glitnir, Heritable and Kaupthing Singer & Friedlander collapsed.
Most of those affected in England and Wales took action via the LGA.
Following a legal battle in Iceland, they were awarded "priority creditor status" last year, allowing them to recoup most of the money lost with Glitnir, Heritable and Kaupthing Singer & Friedlander.
'Risk'
But the funds previously held by Landsbanki - now called LBI - have taken longer to recoup.
So the councils sold their claims against LBI by auction, meaning they will now be taken on by large investor firms.
The money has been handed over, guaranteeing the councils more than 95% of the funds deposited with LBI.
Altogether, this means local authorities are expected to recoup just over £1bn of the £1.05bn.
The investor firms will eventually be paid the lost deposits in Icelandic krona by LBI, meaning they are gambling on the future value of that currency on the international markets.
This means they will essentially take on the risks previously incurred by the councils, but could make a substantial amount if the value of the krona rises.
LGA chairman Sir Merrick Cockell said: "This settlement has enabled a number of councils to fast-track their recovery of money from LBI and avoid any risk of further loss.
"From day one, we have always been clear in our determination that local government would fight to recover the lion's share of the money deposited in Iceland at the time of the crash."
He added: "We can justifiably say that the tenacious efforts of local government working together to get this money back have paid off."
Councils had £414m deposited with LBI at the time of the crash. Prior to the auction, about £225m had been recovered.
The auction will realise more than £140m for the authorities involved.