Are gamblers sending political careers all a-flutter?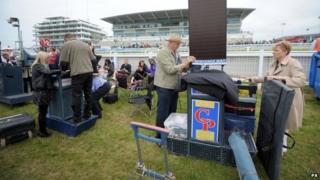 Do you ever fancy a flutter?
Trips to the bookies, or online betting, bring to mind the Grand National or the FA Cup Final for some, or this weekend's biggest matches for others.
But what about betting on politics?
There has been a surge in speculating on who's up and who's down at Westminster in recent years.
But there is also evidence, both in America and the UK, that betting markets have been manipulated in an attempt to change the perceptions of the politicians in question.
David Williams from Ladbrokes said there was much more to the bookies than the horses at Exeter and Southwell: "If you look at the figures from 2007 through to 2012 there has been a 1,500% increase in the stakes in political betting. There is no other part of the betting industry that is growing at that kind of rate."
So have the punters here been lured away from the horses, dogs and football by the prospect of the latest political race?
'Up on the rails'
Our straw poll in a central London betting shop suggests for some, the answer is yes.
"I remember having 35 quid on Major at about 18 or 20 to 1. And he came up on the rails and the rest is history. I think political gambling is very interesting," one punter said, his voice enthused by the subject but his eyes still locked on the horses.
But are there any consequences for politics of this growth in betting markets?
The last US Presidential race in 2012 - the battle between Barack Obama and Mitt Romney - is worth a look.
"We looked at every single transaction that took place in this market for the two weeks immediately preceding this election. We found that a third of all bets placed on Romney to win came from a single account," Professor Rajiv Sethi, from Columbia University in New York, told Radio 4's PM.
"The total amount that was lost in those two weeks was about $4m. For the entire election cycle, we have gone back and looked at the numbers, and the total losses for this individual was $7m."
Professor Sethi cannot be certain the gambler simply had more money than sense, but suspects this was a deliberate strategy by someone who wanted to help the Romney campaign by minimising how long the odds on him winning could be.
Huhne spike
"Even though there were large numbers of people coming and selling, the order size that was placed to buy was so large it was hard to break through that floor, so the way that we describe it is this person effectively put a floor in the Romney price and prevented it falling in the face of negative news."
He argues the investor could well have made a perfectly rational political judgement: "There are two possible motives. One might be to maintain morale of the campaign, volunteers and so on, to boost turnout, to encourage fundraisers to open their wallets, because people don't want to donate money or time or effort to a losing campaign."
So could it, has it, ever happened in the UK?
In early 2006, after Charles Kennedy stood down as Liberal Democrat leader, a man who had been an MP for less than a year, Chris Huhne, declared that he was running to replace him.
Mr Huhne rapidly went from 200-1 to odds-on favourite in the space of a fortnight.
"I think there was a Question Time debate between the candidates and actually Huhne didn't do very well, and you could see during the debate the price on Huhne beginning to slip," recalled Mike Smithson, who runs politicalbetting.com.
"And then suddenly you see a spike as money came into the market, in precisely the same pattern we saw with Romney and Obama, although obviously that cost a lot more than whoever tried to support Chris Huhne in 2006."
Mr Huhne told us he had nothing to do with that and knew nothing about it.
But it raises an interesting thought: because betting on politics involves pundits putting their money where their mouths are, the odds quoted are seen as a reliable barometer of how a candidate is fairing.
So supporters staking enough to influence those odds, however expensive that might be, could be worthwhile, if it helps provide more positive coverage of a contender's chances.