Pubs 'to open late' during World Cup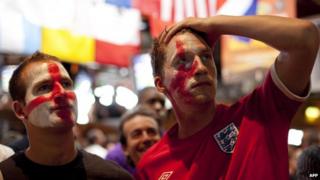 David Cameron has called for a rethink on pub opening hours during the World Cup after ministers appeared to rule out extending them for England matches.
Publicans had asked for serving times to be extended on two weekends during the tournament in Brazil this summer.
The Home Office rejected the bid, saying the World Cup was not a "one-off" event like the Queen's Jubilee.
But No 10 sources said pubs would be allowed to stay open during England's late-night game against Italy.
England play Italy at 23:00 BST on Saturday 14 June 2014, the first of three games in the group stage.
After initially refusing to consider extending pub hours for this game and the final, the Home Office has launched a consultation on the issue.
'Major event'
A Downing Street spokesman said the prime minister had intervened because the World Cup was a "major sporting event" in which there was "significant national interest".
"It is right that we consult," he said. "Subject to consultation our opinion would be that pubs would be able to be open on relevant games."
The pub industry had put in an application on behalf of all pubs to allow them to stay open from 23:00 to 01:00 on the opening weekend of the tournament.
It also asked for an extra two hours on the closing weekend, 11 and 12 July, when the final will be played, saying the move could benefit the economy by up to £20m.
Individual pubs can apply for a one-off late licence at a cost of £21 or in "exceptional circumstances" ministers can extend hours nationally
The industry said it would cost pubs a total of £738,000 if they all had to apply for individual licences.
'Common sense'
The British Beer and Pubs Association (BBPA) welcomed what it said was a "change of heart" from the government.
"This would make for the most fantastic news for thousands of publicans and millions of football fans," said the organisation's chief executive Brigid Simmonds.
"This common sense decision would remove a great deal of bureaucracy for pubs and local councils."
The Home Office said it would consider the responses to the consultation "thoroughly and carefully before deciding how to proceed".
It added: "Given the time difference between the UK and Brazil and the fact some matches kick off at 11pm, the consultation will cover late-night matches occurring on the opening weekend, the closing weekend of the World Cup 2014 and for England's 11pm matches."
England's remaining two group-stage games against Uruguay and Costa Rica will be played at 20:00 BST and 17:00 BST respectively while subsequent games, should England progress, will be held at either 20:00 BST or 21:00 BST.
More than four million people watched England's opening game in the 2010 World Cup in a pub, making it a highly lucrative event for the licensed trade.
The BBPA has produced guidance, in conjunction with councils and police forces, for its members on how to prepare for the tournament and to make sure that it is a success.