House of Lords catering complaints revealed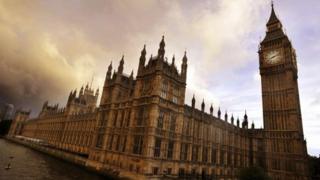 Parliament is often described as the "best club in London", with politicians able to enjoy subsidised food and drink to accompany views across the Thames.
But some peers are not happy about the standard of catering, with one railing against an "inferior" coffee machine and another decrying a lack of peanut butter at the breakfast table.
One peer complained that menus could no longer be kept by guests as souvenirs.
Another felt "scarred" when a booking was cancelled at the last minute.
The publication of catering complaints and recommendations from 2012-13 follows a freedom of information request by the Independent newspaper.
'Negative attitude'
Prices for food and drink at the Palace of Westminster are lower than in restaurants in the surrounding area, but not all are happy with the situation.
One peer described a renovated menu as "startling in its complexity".
Another had a gripe with material on which it was presented, asking: "Can we please return to the old-style menus printed on light card? These were much appreciated by guests as being different and nicer than the typical menu folders now in place that can be found anywhere. Guests often liked them as souvenirs of their visit."
Customer service complaints found their way to Lord Sewel, who oversees catering services, and his colleagues.
One peer, who booked lunch for a party of nine, was unhappy to find the creme brulee, ordered to come with stewed berries, arrived fruitless.
This paled, though, compared with the "absolutely negative attitude" of staff, who had not attempted to provide a "feeling of welcome".
At one reception waiters were heard arguing and, when none was on hand to serve wine, a peer's son's girlfriend grabbed three bottles and went around the tables herself.
Change is often unpopular and alterations to the layout of the Lords tea room were no exception.
One letter writer proclaimed: "I went into the Tea Room today to find the Long Table surrounded by a chaotic litter of smaller tables, occupied, variously by little party groups."
They argued that it was important for peers to sit "in sequence" on the Long Table, saying: "We change this sort of thing and we lose some of the shared understanding and friendships that we all count on. I do hope this is reversible."
A new coffee machine in the Lords bar was deemed "inferior", with a peer concerned that the whole building might now be devoid of decent cappuccino options.
The authorities were accused of trying to "fool" customers after pots of tuna mayonnaise for baked potatoes were made smaller, but the price was not reduced.
Another peer implored against dreariness: "Can we have a variation of flavours in Muller Lites. They do lots of flavours, not just the old standards."
But at least one customer had a positive suggestion, calling for the provision of peanut butter alongside the usual marmalade and Marmite at breakfast.
Asked why they felt this should happen, they replied: "It's delicious."