Do the Conservatives have a problem with women?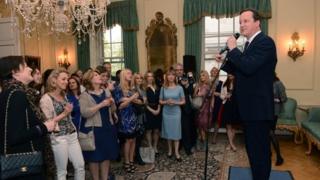 Despite having a majority of 11,000 and having been an MP for 17 years, Anne McIntosh has lost her battle to represent her constituency in North Yorkshire at the next election.
Today's decision ends a long-running wrangle. Her local constituency party in Thirsk and Malton decided to de-select her last year as their candidate for the 2015 election.
An internal inquiry by Conservative Party HQ found that the local executive broke the rules by co-opting a large number of new members on to the association's executive board weeks before a vote where it was decided not to endorse her.
The report - which was been leaked to the Yorkshire Post - also found the association was troubled by factions and needed to unite.
'Silly girl'
All 560 members of her local Conservative association had the chance to vote and have now decided not to re-select her.
Her de-selection is not just a personal blow but a blow to the party too.
Now that Miss McIntosh has been forced out, David Cameron has lost one of just three female Tory MPs that the party has in the whole of the north of England.
There could be various reasons why Miss McIntosh and her local party chairman have had a fraught relationship but reports that she was referred to as a "silly girl" suggest if she were a man, the working relationship may have been different.
It's also notable that in the case of other Tory MPs facing their own de-selection battle - Crispin Blunt (who was recently re-selected in Reigate) and South Suffolk MP Tim Yeo, who will find out whether he will be de-selected next week - that they both received support from senior party figures.
Chancellor George Osborne, no less, described Mr Yeo as "experienced, conscientious, thoughtful, loyal and steady under fire". He also spoke out in support of Crispin Blunt - as did several other Cabinet ministers.
Support from senior figures was much less forthcoming for Anne McIntosh.
Some critics have accused David Cameron of having a problem with women - an image not helped when he told the Labour MP Angela Eagle to "calm down, dear" at PMQs.
Mr Cameron dismissed that as a joke and insists that he does care about women. He even declared 2014 as his "year for women".
'Heart-wrenching'
But it's still only January and already one of his female MPs - Jessica Lee, who represents Erewash in Derbyshire - has announced she will not be standing for election in 2015.
Her decision follows that of the Conservative member for South Thanet MP Laura Sandys. She announced last November that she'd taken the "heart-wrenching" decision to stand down due to "a wide range of family demands".
Ms Sandys said Miss McIntosh's local party had lost a good MP but she denied there was a wider problem with women in the Conservatives.
"No, not at all I don't think so, I think every person's response has been for different reasons - I don't think this is a male or female issue but I am shocked and saddened," she told BBC News.
South Ribble MP Lorraine Fullbrook also cited personal reasons when she said in September she would not stand again.
And it was personal reasons - moving to New York to be with her husband - which prompted Louise Mensch's departure in August 2012, which triggered a by-election in the Corby constituency.
Aside from the fact they're all Conservatives and have all cited "personal reasons" for their decision to leave, the four women have something else in common - they all entered Westminster at the last election in 2010.
After just one term, they have decided Parliament is not for them.
Disillusioned
Of course they're not the only MPs deciding not to stand again in 2015 - indeed, they're not the only female MPs to make that decision.
Labour has seven female MPs standing down and the Lib Dems two.
So in percentage terms, the Conservatives and Labour are neck-and-neck with just over 8% of their female MPs deciding not to carry on.
The Lib Dems are only losing two women MPs (so far) but it's a much higher percentage for them - over 28%.
But the big difference is that none of the Labour or Lib Dem women standing aside are from the latest intake.
Perhaps it's no surprise that after 22 years in the job, someone like Labour's Dame Tessa Jowell would decide not to stand again but for four of David Cameron's newest intake to have already taken the decision to leave parliament - and more are expected to follow - perhaps points to a wider problem for the Conservatives and Mr Cameron, in particular.
When he became leader, he made the recruitment of more women in winnable seats one of his main aims. And the number of female Tory MPs did increase significantly in 2010, from just 17 to 49.
Some of them have clearly become quickly disillusioned.
'Family-friendly'
Perhaps they've realised their chances of climbing the career ladder at Westminster is more limited than in previous parliaments - the nature of coalition means that the prize jobs have to be shared out between the Conservatives and Lib Dems.
Maybe it's because although the make-up of parliament has changed - there are now 147 female MPs out of the 650 total - Parliament itself has not changed much.
There may be more "family-friendly hours" now so fewer sessions which go on late into the night but it still means being away from home several nights a week for most.
Then when MPs do get back to their constituency - particularly if it's a marginal one - there are constituency surgeries, school visits, fetes. They are never really off duty.
Women are still very much in the minority in parliament and today's decision not to re-select Anne McIntosh is likely to do little to encourage more women to enter politics.