Conservative MP Anne McIntosh loses de-selection vote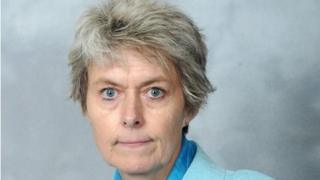 MP Anne McIntosh has been de-selected by her local party, meaning that she cannot stand as a Conservative candidate there in the next election.
The MP lost a vote of confidence of activists in her Thirsk and Malton constituency in Yorkshire.
Ms McIntosh has been in a long-running dispute with local officials about her political future.
The MP, chair of the Environment Select Committee, said she still intended to fight the seat.
Ms McIntosh, who was first elected to Parliament in 1997, survived a similar vote of confidence before the 2010 election and went on to increase her majority to more than 11,000.
The MP is reported to have fallen out with the chair of her local party association, triggering the vote of party members about her candidacy at the 2015 general election.
'Stressful time'
She told the BBC she would continue to represent the Conservatives for the remainder of the current Parliament with her "customary passion" and still intended to fight the seat at the next election.
"I do not intend to be thrown aside by a small group," she said. "It is for my constituents as a whole to dismiss me if they wish to do so."
Peter Steveny, the chair of the local party association, urged the Conservatives to "unite" behind a new candidate.
"This has been a stressful time for everyone in our association, including Anne. I'm sure all members will join me moving forwards to campaign for a Conservative victory in 2015."
The dispute between the MP and the local association, believed to be a clash of personalities rather than based on policy differences, has been the subject of an internal investigation by Conservative Campaign Headquarters.
'Factions'
A leaked report earlier this month suggested the local party was beset by "factions" and the situation had "spiralled out of control".
The MP had received the backing of a number of senior ministers and Commons Speaker John Bercow but Labour accused David Cameron of "failing to stand up for" the MP.
Labour seized on Ms McIntosh's de-selection to suggest that David Cameron had a problem with retaining female MPs in his party.
"His silence speaks volumes at a time when many people are asking why the Conservative Party is so out of touch," shadow minister Jon Ashworth said.
"With Anne McIntosh deselected, the Tories look set to lose their only female MP in the whole of Yorkshire and the Humber."
The Conservatives said a new candidate would now be selected in due course.