Home Office bonuses irresponsible, say MPs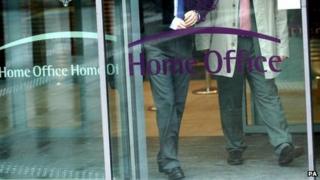 The Home Office was "irresponsible" to pay its staff more than £6.5m in bonuses "despite poor performance in many areas", MPs say.
In a report, the Home Affairs Committee also criticises the way in which money is spent on police equipment and urges civil servants to give more guidance.
Leadership at the department is at "crisis levels", it adds.
The Home Office said it was succeeding in cutting crime and immigration at a time of falling funding.
While compiling its report, the committee heard that in the financial year 2012-13, 40% of Home Office staff received bonuses totalling £6.52m - an average of £559.
It praised the department's permanent secretary, Mark Sedwill, for waiving his bonus.
'Matter of urgency'
The committee's chairman, Labour MP Keith Vaz, argued that others "should have followed his lead", saying: "It is irresponsible that the Home Office has continued to pay big bonuses despite presiding over many failures."
He added: "We should end the culture of rewarding failure."
The report also said there was an "urgent need" to make Home Office procurement contracts more transparent and efficient and that it was "futile to continue to pay vast amounts of money to large companies who do not perform. Smaller deals will allow the government to root out those who do not deliver."
The Home Office was also not doing enough to help improve the "hopelessly fragmented" nature of police forces' spending on equipment.
It had "only the sketchiest idea of what is going on", despite this being one of the most important ways in which the department could make spending cuts.
The government should issue detailed guidance to police and crime commissioners and chief constables on "good procurement practice", the committee said.
The report also said that, based on the 2012 Civil Service People Survey of staff, "engagement and confidence in the civil service leadership of the Home Office are at crisis levels and need to be addressed as a matter of urgency".
But a Home Office spokeswoman said: "The Home Office is succeeding in cutting crime, reducing immigration and securing the UK from terrorism at the same time as reducing expenditure.
"Staff who make exceptional contributions to the work of the Home Office are eligible for special one-off payments - the majority of staff given payments during 2012/13, the year of the London Olympics, received less than £500."